Tools
Listing Joblots 1 to 12 of 39 in total.
Tools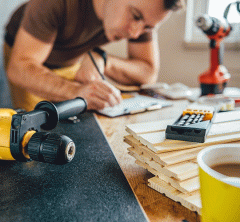 Stock Up on Wholesale Tools for DIY Enthusiasts
DIY is one of those things that you either love or hate. Some people are happy to pay a handyman for everything from putting up shelves to fixing leaky taps. Whereas others love to have a 'project' to get their teeth stuck into every weekend. By stocking your retail outlet with great value tools you're sure to appeal to the latter who are keen to fill their tool boxes with quality items to help their DIY projects along.
During the colder months decorating and getting around to all those little niggling jobs becomes popular, particularly with those keen to get the house looking ship shape in time for Christmas and New Year. Whereas summer is the time when the list of outdoor jobs gets drawn up and many turn their attentions to their gardens.
Wholesale Clearance often stocks quality garden tools among its tools, for your green-fingered customers to add to the collections in their sheds.
Even the least handy with a hammer types will want to keep a basic selection of essential tools, if for nothing else but emergencies. This universal appeal makes tools a safe bet when stocking any retail outlet. If you can offer a good selection at a low price then your customers will have no reason to shop anywhere else for their DIY tool kit.
Stock up with tools from Wholesale Clearance and turn your retail outlet into an Aladdin's cave of treasures for keen DIYers - making their projects easier and letting them cross off of their DIY jobs list in super quick time.
Frequently Asked Questions
Yes, we have a sellers portal that you can create your own adverts and place them for sale on our website. We do not charge you any upfront fees and the account is free to set up. Please click here to set-up a selling account.
You can purchase high quality wholesale goods at much lower prices than you normally would, in order to increase your all-important profit margin. Each job-lot on our website has an excellent resale value. With years of experience as high quality distributors, we can offer advice if needed as to what will sell best where.
Everybody! Our low prices allow businesses and traders to buy goods at a fraction of trade price, and pass on these savings to the consumer. Companies we buy from also have the chance to gain space and improve cash flow for idle stock.
Our goods are bought in bulk, usually thousands at a time, from bankrupt liquidated companies or straight from the UK wholesalers, manufacturers or distributors. This means we can buy high quality, branded stock at the lowest price whilst maintaining the highest standards possible.
Yes. We have sent orders to almost every part of the world, and can send anything we have listed on our site. The countries we send to most often are Ireland, France and Poland, but we can send parcels, pallets and full containers to any country. Please phone or email for a shipping quote.
We can sell to anyone! We supply market traders, party plan and sole traders, car-boot sellers and shops including discount stores and department stores. We also supply to Ebay traders, Amazon Traders and website owners.
There is no account needed. We even have customers buy job-lots to sell to friends, as they want a few items for themselves. Here's a quick tip: The quickest and best profit is wholesale clothing.
If you have any other questions, please don't hesitate to contact us. Our friendly advisers are standing by.
You can also find us on Facebook and Twitter.