Wholesale Auctions from eBay
Excellent
207
customers have written a review on Trustpilot
Latest Reviews
26 Jul
Can recommend ,items as described speedy delivery very good customer service...
Read More
David Shipman

Fine Jewellery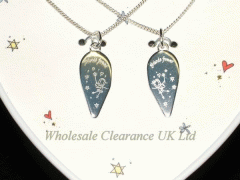 Purchase Wholesale Fine Jewellery at Rock Bottom Prices
It may seem impossible to stock your shop with fine jewellery without investing a large sum, but when you shop at Wholesale Clearance you can get wholesale fine jewellery for much less.
Playboy is one brand that produces amazing fine jewellery, to appeal to a customer base that like to enjoy the finer things in life. Included in this range is a beautiful silver bangle featuring the iconic Playboy bunny heads as dangling charms. There is also a similar multi-hoop bangle in gold, with a single large Playboy bunny motif charm, with a genuine Swarovski crytal for an eye. Both of these bracelets come in their own velvet pouches with the Playboy branding in hot pink.
This popular brand also does a matching necklace in a dangling multi-hoop design, also with a Playboy bunny head – also with a genuine Swarovski crystal for an eye. These beautiful necklaces are boxed in genuine Playboy satin lined presentation boxes which means that they also sell well as gifts.
For the more daring customer who likes to wear their fine jewellery in more unusual places, Playboy also does a great range of bejewelled belly bars.
When shopping for wholesale fine jewellery to stock your shop it is important that you ascertain that any purchase you make are the genuine article. Poor quality branded copies will alienate customers who will quickly lose trust in you as a retailer.
When you shop at Wholesale Clearance for your stock, cheap doesn't have to mean fake or poor quality. You can find genuine wholesale fine jewellery at unbelievable prices, so take a look and enjoy a premium shopping experience.