Wholesale Auctions from eBay
Excellent
207
customers have written a review on Trustpilot
Latest Reviews
03 Jul
I am really happy with your products and service is amazing..............Thanks...
Read More
DHIREN PATEL

T-Shirts & Tops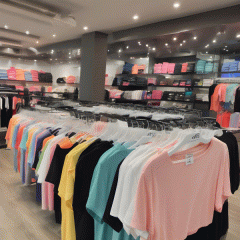 Stock Your Shop With Great Value, Branded Wholesale Tops
When it comes to clothes, most people own many more tops than they do bottoms. Many people stick to basic jeans or trousers, but mix and match different tops to create different looks. A simple pair of jeans can be worn so many different ways with the right top.
Wholesale Clearance knows that tops are great sellers for retailers, and so offer a very wide range of wholesale tops for you to stock your shop with.
Wholesale t.shirts, vests, shirts, sweaters, hoodies and more, for both men and women, are available at the lowest possible prices.
It's often the top that makes the outfit, with simple t.shirts worn with jeans and trainers adding up to a laid-back, casual outfit, and a smart top or shirt worn with jeans and shoes combining to make a stylish, evening outfit. Whether your customer wants smart or casual wear, you're sure to find the perfect tops to stock your shop at Wholesale Clearance.
Wholesale Clearance only offers the biggest brands and the best quality items, so that no matter whether their style is casual or smart, your customer can always look stylish.
Some of the branded tops offered at Wholesale Clearance include high end designers such as Ralph Lauren, Calvin Klein and Tommy Hilfiger, casual high end brands such as Pink Soda, Boxfresh and Bench, and some of the best known sports brands including Nike and Reebok.
Take a look at the wholesale t-shirts and tops section in ladies or men's clothing, and enjoy stocking up your shop with great value, branded wholesale tops.