Wholesale Auctions from eBay
Excellent
207
customers have written a review on Trustpilot
Latest Reviews
03 Jul
.Thank you for you correct our mistake...
Read More
Issam Chriebati

Bags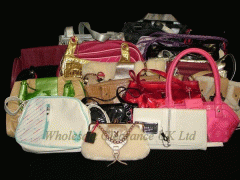 Stock Wholesale Ladies Bags
Handbags are a great seller in the run up to Christmas, New Year and throughout the year. As well as ladies treating themselves to new outfits for the festivities, handbags are a popular choice to give as a gift. Either way, stocking your retail outlet with great quality branded wholesale ladies handbags in December is always going to make it popular with shoppers.
At Wholesale Clearance, we know that ladies handbags sell well – not just in the run up to Christmas but all year round. That's why we do our utmost to keep a good and varied stock of wholesale handbags and purses, from totes to travel bags.
All of our stock is of the standard of quality that shoppers would expect from any retailer, and brands that you may find include Playboy and Pacha – as well as bags from popular high street stores.
We can offer the best brands at great prices because we deal with quality designers, fashion chains and catalogues directly to acquire their excess stock. Because we do the best deals on surplus and last season's stock, we can afford to offer job lots to retailers at amazing prices.
As well as wholesale ladies handbags, Wholesale Clearance also offers job lots of other accessories such as purses, hats, sunglasses and belts; all of which are popular gift purchases.
Fashion retailers will also find a wide range of clothing job lots,nfor men, women and children, so there's no reason why you can't offer the entire party outfit solution.