Wholesale Auctions from eBay
Excellent
207
customers have written a review on Trustpilot
Latest Reviews
03 Jul
They have met my expectations in regards, quality, descriptions and delivery....
Read More
Martin Nwafor

Mens Clothing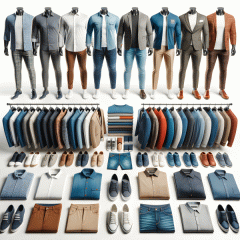 Wholesale Men's Clothing: Because Men Love to Shop Too
Girls have a reputation for being shopaholics who love nothing better than to shop till they drop; however, many men love to shop too. If you own a retail outlet then you'd be wise not to neglect the male market, as it can be very lucrative.
Wholesale Clearance offers wholesale men's clothing to retail outlets at the lowest possible prices. The wholesale goods may be last season's surplus stock, but all items are great quality and some of the most popular brands are available.
Examples of the amazing brands that may be available at Wholesale Clearance include trendy casual wear labels Bench, Criminal, Jack Jones, Fenchurch and Boxfresh. Denim brands that may be available include Lee Cooper and Diesel, and high end designers brands include All Saints, Guess, Ralph Lauren, Timberland and Calvin Klein.
Wholesale Clearance is able to sell these fantastic, and popular, brands, because it buys surplus or bankrupt stock in bulk, at a discount. Wholesale Clearance can then pass on a great discount to retailers, and retailers in turn can pass this on to their customers.
Offering great value branded clothing to customers at a lower price than the high street stores is sure to give savvy retailers an edge in these difficult financial times. Customers are looking for great value whenever they make a purchase, and buying job lots of Wholesale mens clothes allows retailers to offer that, ensuring that customers will return to them again and again.