Wholesale Auctions from eBay
Excellent
207
customers have written a review on Trustpilot
Latest Reviews
05 Jul
I hope I will get in touch a gain to the wibsite company...
Read More
Khaled Siline

Trainers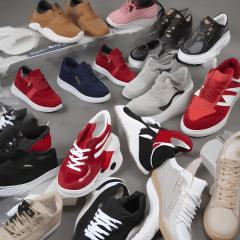 Get Sporty With Wholesale Trainers
Trainers are an essential piece of kit for sporty types, but they can be expensive. You can beat the big stores by offering branded trainers and sports shoes at a fraction of the price when you shop for stock at Wholesale Clearance.
Wholesale Clearance is the place for retailers to fulfil all of their stocking needs. We always carry a wide range of branded products, from shoes to sunglasses, which include high street, designer and sportswear brands.
In the footwear department retailers will find all manner of shoes including wholesale trainers, boots, sandals, heels and more. But as the stock at Wholesale Clearance is ever changing, it's wise to snap up the bargains as and when you see them. Delaying could lead to disappointment.
Wholesale sports shoes and trainers are a good buy for retailers as these are normally high value items. Branded trainers cost, but when you buy wholesale from us you can offer your customers a cheaper alternative.
Yet they needn't skimp on quality or style. All of our wholesale sport shoes are brand new, with many coming in the original boxes, so your customer won't feel short changed.
As well as trainers, Wholesale Clearance also stock a wide range of sportswear, including tracksuits, hoodies, t.shirts and shorts, so if you own a sports shop you could offer everything your customer needs for a comfortable and stylish sporting experience – allowing them to get sporty, for much less. Buy wholesale trainers from us and you will make solid mark-ups!