Latest News › Wholesale Clearance UK Latest stock, News and competition's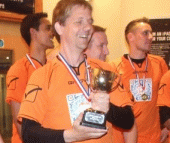 A Fun Filled Newsletter This Month....



Wholesale Clearance
UK Win The Tamebay Ecommerce Cup

On a wet, windy Tuesday (28th May to be exact)
8 sporting gods made their way to Wembley to take part in the Tamebay Ecommerce Cup.

Taking part were 24
teams cut from the strongest granite, with skills silkier than a silky
thing, including: eBay, Metapack, Amazon, Ford, Kurt Geiger, Play.com,
Seller Dynamics and more.

After a hard fought group stage which
saw Wholesale Clearance draw one and win five to top their group, the
quarter finals threw us against Zoocha and thumped them 4-0.

The
semis pitted us against eBay who were comfortably shown OUR best offer of a
3-1 win.

The finalgame saw us against last years winners, Genie
and the Geek. Two goals from Chris Payne and some superb saves from
rightly voted Man of The WholeTournament, Stuart Wood saw us run out 2-1
winners and new Cup holders!



FANCY KITTING OUT YOUR OWN HOME FOR A
CHANGE RATHER THAN YOUR CUSTOMERS???


We are pleased to announce that we have an
array of electrical items now available. Items include:

Televisions (up to 65''), Laptops, i Pod Equipment, DAB, Camcorders,
HomeCinema, Blu-Ray, Camcorders, Ebook Readers and more.

Heres
is the good part! ALL items, irrespective of grading come with a
1 YEAR
WARRANTY! This covers all mechanical aspects of non
accidental fault. That's not all... Also, any item over
£100.00 that is purchased will also qualify for freepick up, repair
and redelivery.

For a full current pricelist
email

[email protected] with ELECTRIC in the
subject bar.

FREETOENTER FRIDAY FUN
QUIZ WITH GREAT PRIZES

Every
Friday on our Facebook page we run a fun quiz for you to enter. It
could be a link quiz, a photo quiz or a guess how many quiz.

OVER 50 NEW LINES
OF SHOES JUST ARRIVED

Check out the latest stock page for our
very latest lines in footwear. Prices from £2.00 a pair, great
styles for all ages and occasions. Also:

LIMITED OFFER ON
100 PAIRS OF MIXED SHOE PALLET. Usual price (inc VAT) is
£598.80 + £40.00 delivery.

I have 10 to sell at a
knockdown price of only £550.00 all inc! A total saving
of over £88.00!

Call Andy on 01202 668817
now or email [email protected]
with SHOE in the subject bar and you best contact number and we will call
you.



SEE OUR LATEST STOCK PAGE FOR ALL OUR
OFFERS

We have a few new lines just come in such
as:

G Star T-Shirts, Guess T-Shirts, Jeans, candle ware and gift
stock, printing and office equipment and much more.

For all our
latest stock and much much more, click here to go there right now




A LITTLE BIT OF
FUN....

As Wholesale Clearance
delves even further into the technological world where you can already
follow us on:

Facebook - http://www.facebook.com/WholesaleClearanceUkLtd

Twitter - @WholesaleClear

Well now, you can see our
video channel on YouTube.
Posted on 31 May 2015
Back