Latest News › May 2012 Wholesale Clearance UKs News Letter.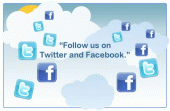 Welcome to May's Newsletter


Brand New Facebook Page

In line with our new website launch, we have also ditched the outdated Facebook page and launched a fully interactive business page.

When on the page, please make sure to click the 'LIKE' button. For just clicking the button, every new 'LIKE', that person will receive a message via Facebook containing a promocode that will entitle you to £5.00 off any order from the website.

Please click here for the new Facebook page.

Please leave any comments on the page and keep an eye for updates and offers.


Brand New Brokerage Stock Page


We have launched a brand new section of the website. Customers can advertise their stock they wish to clear on the website.
Essentially we provide a forum for you to advertise on in our brand new brokerage section. All we require is the following information:

1 - Your full name, address, pickup address (if different), best contact number(s)
2 – An accurate description of the stock that you wish to sell
3 – An accurate breakdown of the stock
4 – Any images you have (if not send samples and we can photo them for you)
5 – A brief history of the stock (origin, where sold etc)
6 – Accurate idea of original RRP
7 – The full amount you wish to receive from the sale (per unit or as a whole)
Once received, we will prepare the advert and email you back with a link to the advert to make sure you are happy along with our terms and conditions for you to confirm. On confirmation of reading the terms and conditions (reply required by email), we will make your advert live to our full database of over 100,000 people and to over 1 million unique page viewers a month.
If this is of interest please see the page or contact us for more information


LAST CALL FOR EURO 2012/DIAMOND JUBILEE/OLYMPICS STOCK

With these three major events taking place very shortly, its time to stock up on lines which will fly out!

We have:

England Foam Hands (Car Wingmirror/own hand)


RRP £3.99

Take 50 for only £30.00 (inc VAT) 60p per item

OR Take 500 for £250.00 (inc VAT) 50p per item

OR Take 1000 for £400.00 (inc VAT) 40p per item

Take all price available on request to Andy on [email protected]


England Hats/Caps

4 Styles available

RRP £7-9.99

Take 10 of a style for £12.00 (inc VAT) £1.20 a unit

Take ALL (2000 in total) for only £2000.00 (inc VAT) just £1.00 a unit

Go online or contact Andy on 01202 668817 or contact us by email.


Tommy Hilfigier T Shirts
2,500 Tommy Hilfigier Crew T Shirts in many different styles. Get 10 in a style (mixed colours and sizes) for only £79.90 + VAT.

Discounts available for 50+ tops.
Please see here for all available styles and packs for sale.

Email Andy on [email protected] or call 01202 668817 for any more info.

Kangol Sunglasses

Last remaning pairs of Grade A Kangol Sunglasses.
A few styles left - see here for the latest items.

Prices for 10 is £54.50 + VAT. Take 100 Pairs and instead of £545.00 (£654.00 inc VAT) for only £600.00

New Branded Clothing and Footwear

The following is a brief list of some of the great new clothing lines just in.

John Lewis Boxed Shoes - RRP £55-60.00
Take 10 of a style (4 different available - see here) for only £11.00 a pair

Kids Ralph Lauren Jeans - RRP £50-60.00
Take 10 for only £165.00!
Prices start from only £19.99 a pair!
Renault F1 Tops
RRP £45.00 a top - take 10 for only £89.90
Womens Floral Summer Items
We are advertising the tops at the moment here, but there is also dresses, skirts, wrap arounds etc. RRP £14.99 - £35.99
Prices from £2.25 a unit!
Mens Animal P0L0 tops
RRP £29-39.00 take 10 for only £9.99 a unit
Mens and Ladies Diesel Tops
RRP £40-65.00 - prices from £8.99 a top!
This is just a small snapshot of what we have available so you can either look in our male and female clothing section or check out the latest stock page for the latest lines to go live

Posted on 30 May 2015
Back