We're all looking for bargains with the cost-of-living crisis. It turns out searching for an unfortunate typo on eBay could be your best shout.
Here at Wholesale Clearance, our data analysts have been scouring misspelt fashion brands on eBay to find out which brands have the most misspellings and how much you could save. So if you're looking for that designer brand at a discount price, this is the right place to be!
The Most Commonly Misspelt Fashion Brands Listed on eBay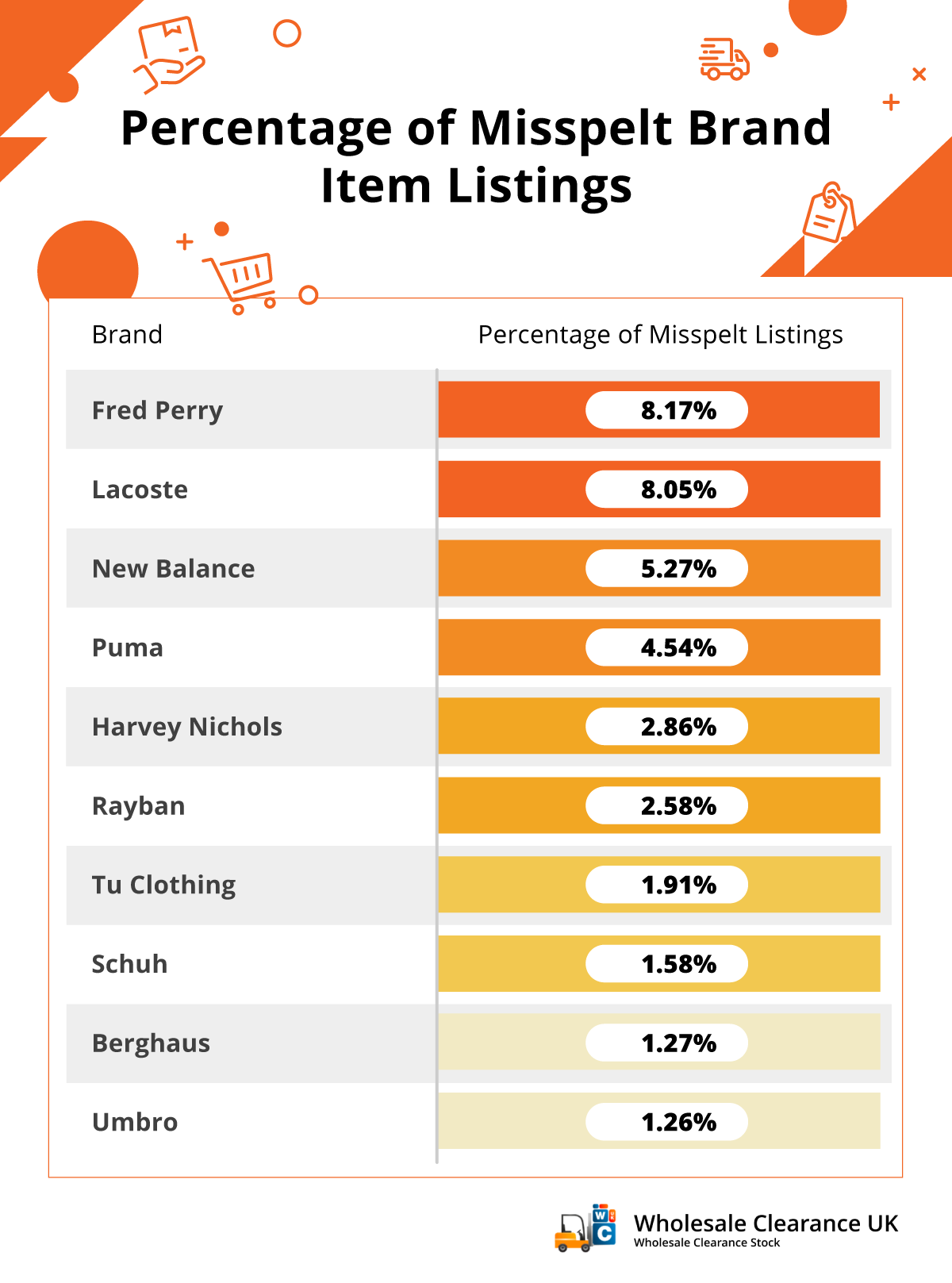 Over the past year, Fred Perry has the most misspelt eBay brand listings – 8.17% of all Fred Perry listings (incorrectly or correctly spelled) include some variation of a misspelling. There were a staggering 8,944 misspelt listings with the most common misspelt listing being 'Red Perry'. Unfortunately, though, this misspelling doesn't actually save you much money. On average, listings for 'Red Perry' are just 20p cheaper than listings for 'Fred Perry'.
Lacoste has the second most amount of misspelt eBay listings at 8.05% of all listings. Here the most common misspelt listing is 'Lacost' – which interestingly sell for a higher price than a standard listing for 'Lacoste'.
Don't fret though, as next we'll dig into the brands which have the highest savings on average from misspelt listings.
The Fashion Brands with the Best Savings for Misspelt Listings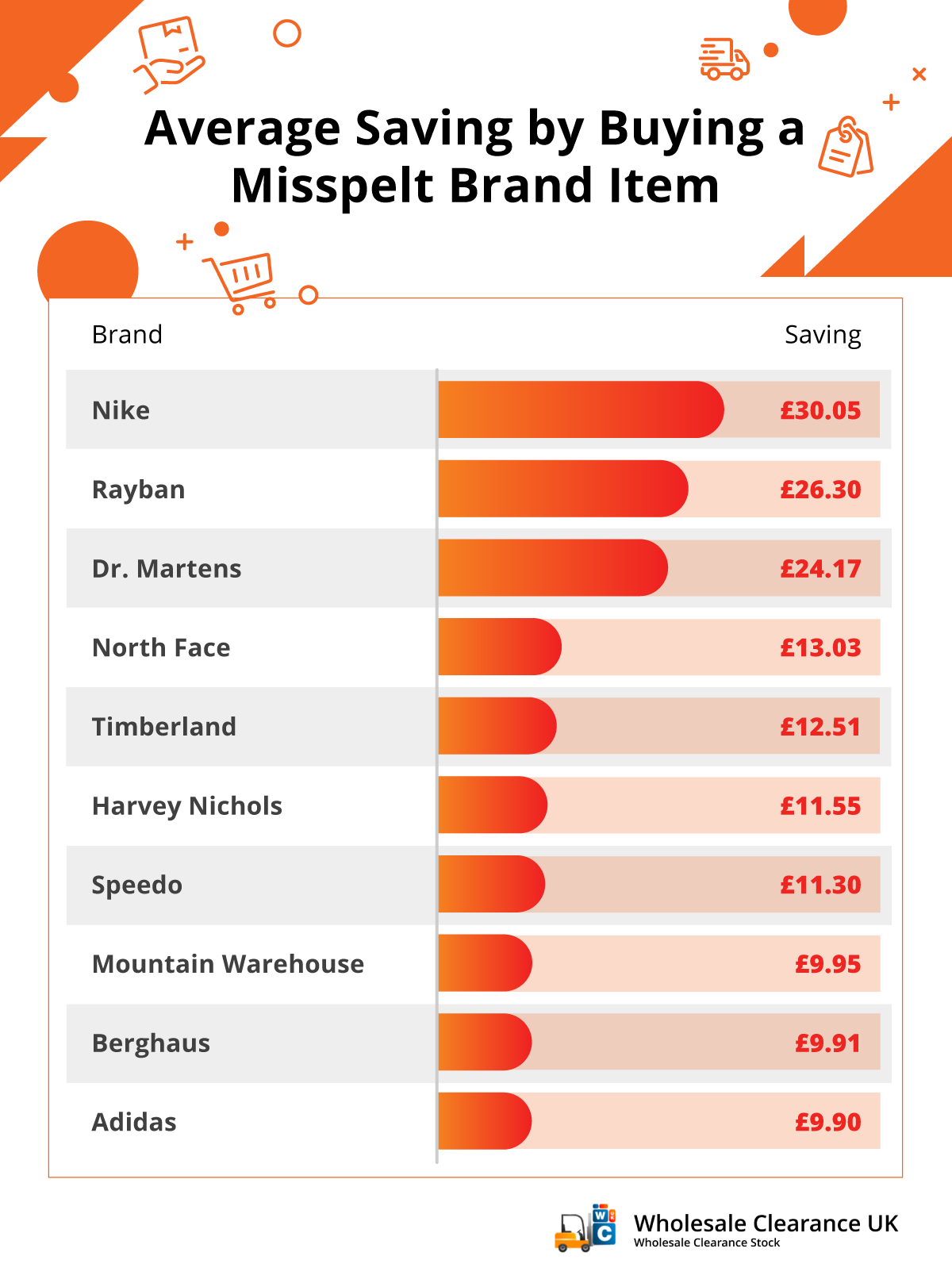 On average, the brand with the biggest savings by looking at misspelt listings is Nike. By searching for their most common misspellings, you could save up to £30.
Next is Rayban, on average, if we include listings like 'Rayyan', 'Rayan', 'Raban' and so on, you'd save £26. A typical listing on 'Rayban' sells for £45, but if you are savvy and search for a misspelling you can get an average price of £19.
The Best Misspelling to Search For
Inevitably, there is always going to one misspelling which gets you the best deal. Luckily for you, we've highlighted which misspelling gets you the best brand bargain.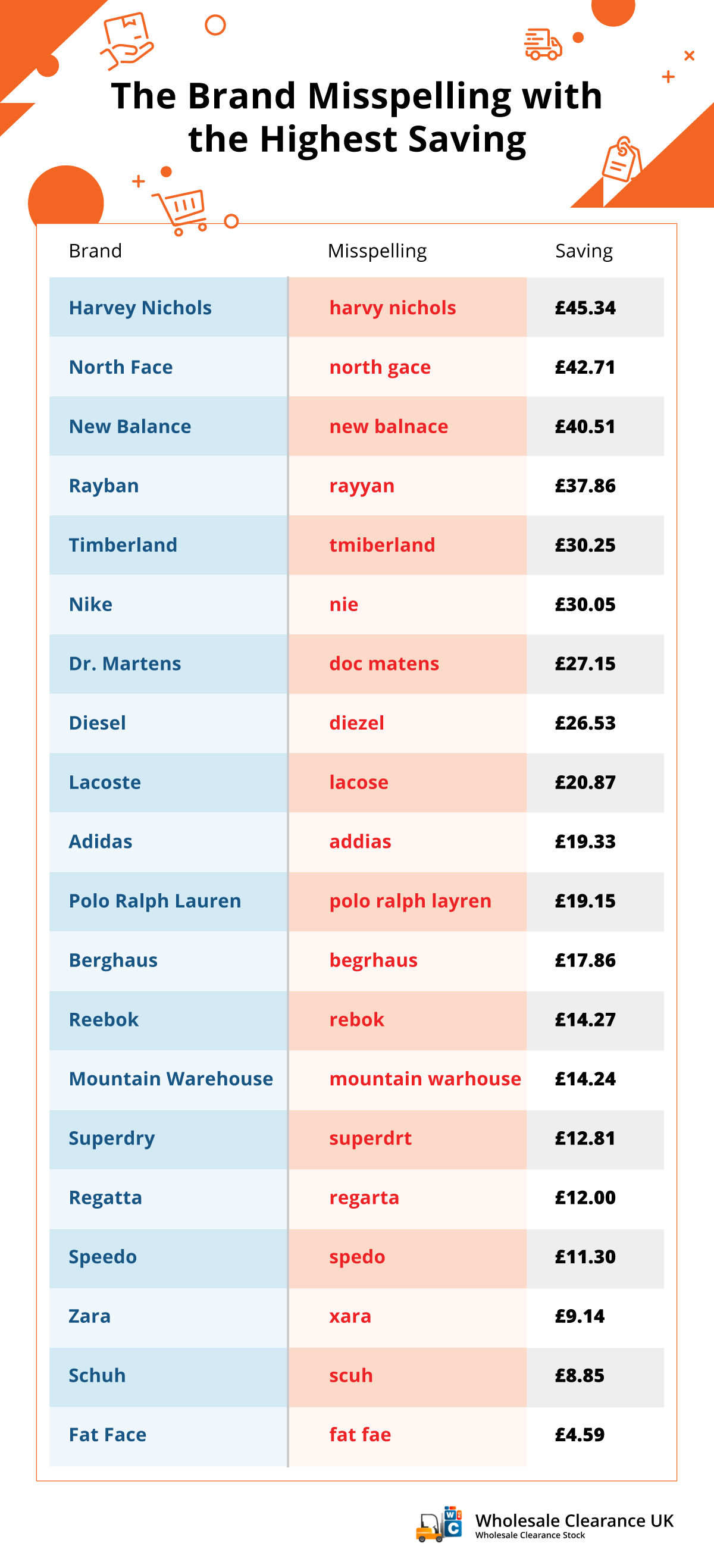 If you search for 'Harvy Nichols' instead of 'Harvey Nichols', you could save yourself up to £45.34 on their second-hand listings.
While if your desperate for a 'North Face' product, why not search 'North Gace' instead – as this could save you up to £42.71 on your next purchase.
Methodology
To get a sample of the top fifty most popular fashion brands in the UK, we identified a list from YouGov. While we then obtained a list of the most common misspellings for each of these brands from Fat Fingers.
All misspellings for each brand were then input into eBay's own market research tool, Terapeak, to identify the average selling price and number of listings.
Data was averaged across all misspellings for each brand to identify an average saving, while we were also able to easily identify the top misspelling for each brand – the misspellings with the biggest savings were then ranked and highlighted in our 'The Best Misspelling to Search For' section.