Best Trade Shows and Fairs To Visit in the UK: 2022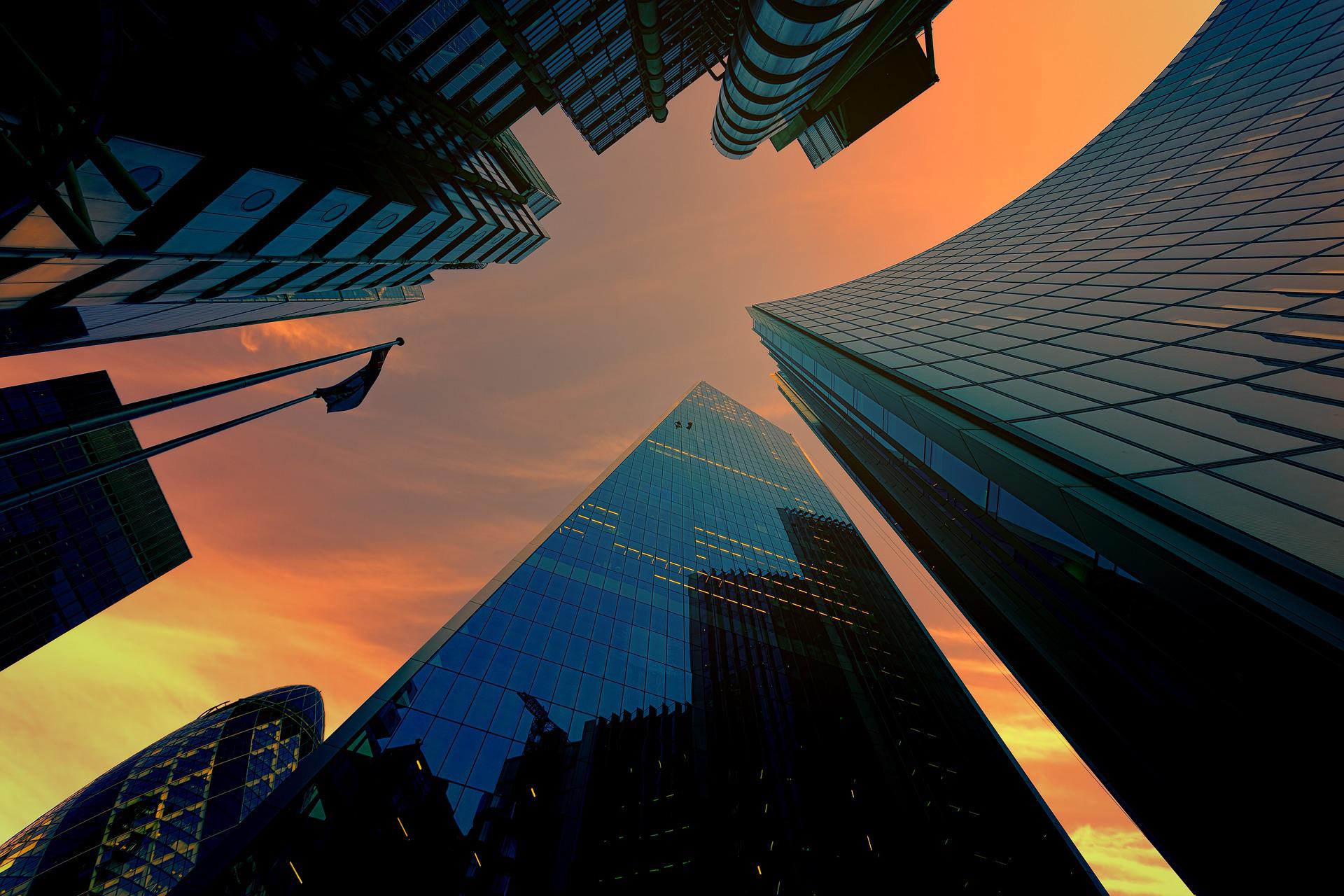 As a wholesaler, heading to trade shows, fairs, and exhibitions with a trusty banner and setting up a stand can be a tiring, although it is a certainly a highly rewarding and often fruitful experience.
Having the opportunity to meet new suppliers, learn about the latest trends and network with others in retailing and the e-commerce industry can help take your business to the next level.
However, with so many to options choose from, it can be hard to know where to start.
Therefore, we have compiled a list of some of our favourite trade shows and fairs, along with others that could be useful for growing your business.
Listed: The Very Best UK Trade Shows and Fairs To Visit in 2022
Our Top Ten Trade Shows and Fairs - 2022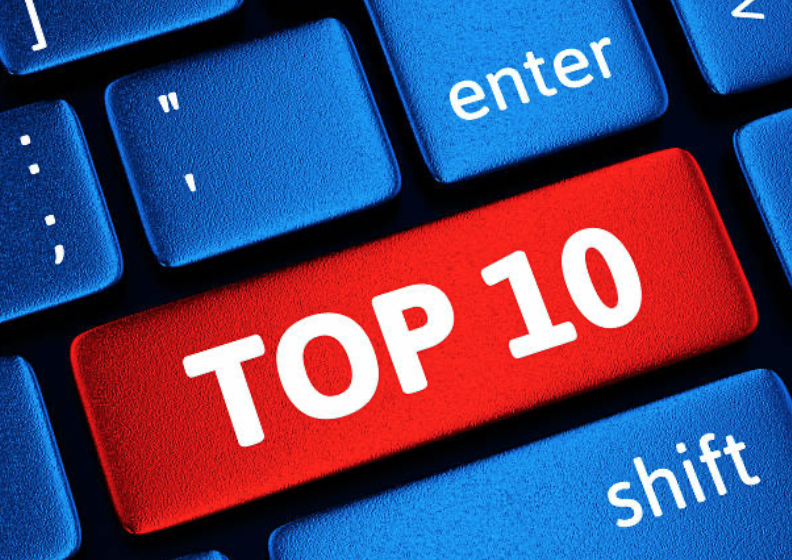 It goes without saying that the biggest shows keep returning year upon year, but that being said, there are often new ones to look out for!
That's why it is important to keep updated, and stay in the loop when it comes to sourcing the very best suppliers and business contacts.
For our compact and concise List of The Top Ten Trade Shows in 2022, just read on…
No.10 - MULTIMODAL 2022
14th, 15th, 16th June – NEC BIRMINGHAM
Running for twelve years to date, Multimodal is the UK and Ireland's premier freight transport, logistics and supply chain management event.
Multimodal represents every single logistics sector under just one roof, making it a highly valuable industry showcase.
Shippers and various cargo owners attend to improve their business. They do this by finding ways of moving their products more efficiently and by meeting new suppliers.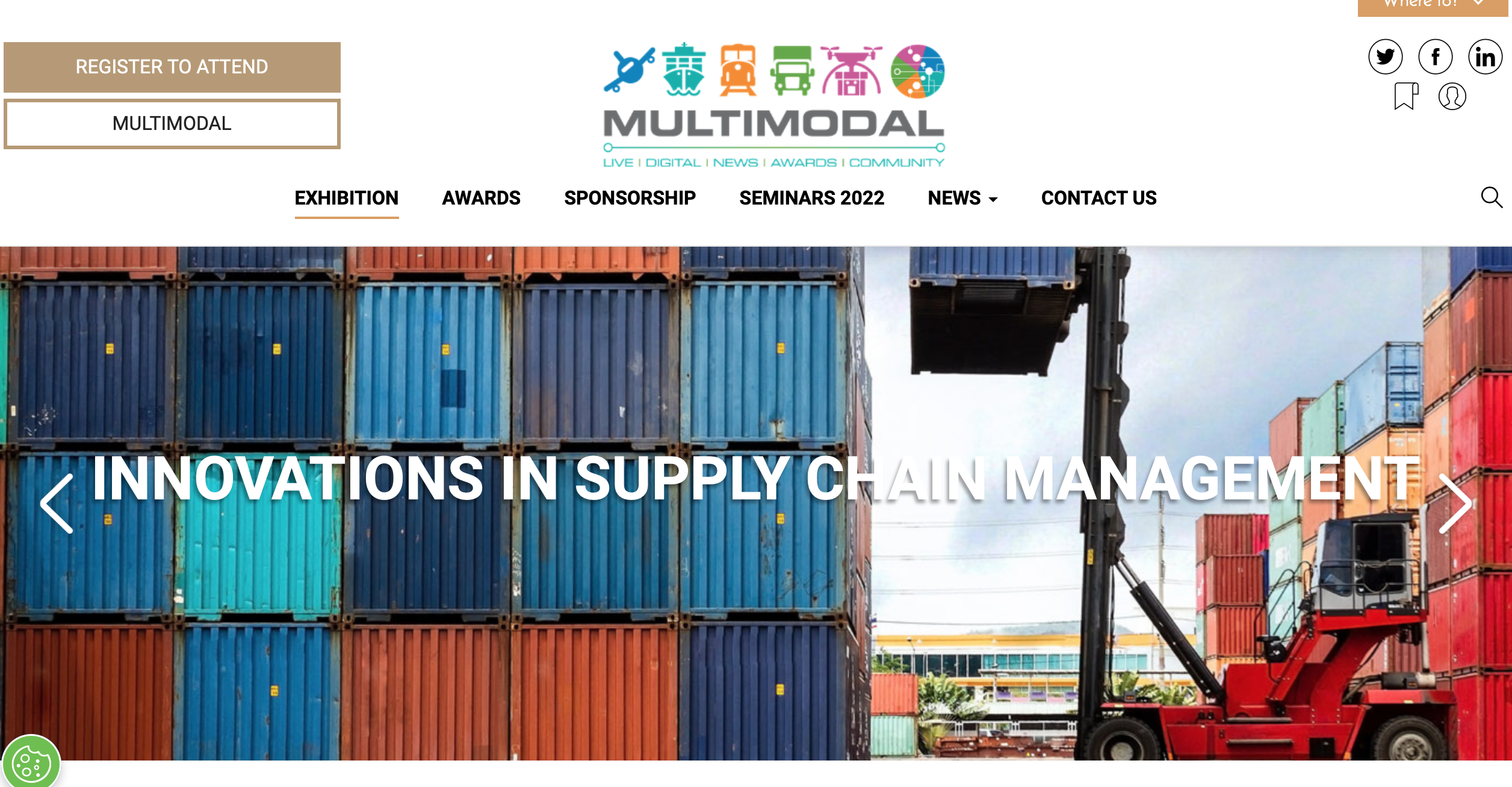 No.9 - Iot TECH EXPO GLOBAL 2022
1-2 December 2022
The World's Largest IoT (Internet of Things) Conference Series; the IoT Tech Expo event will bring together key industries from across the globe for 2 days of top level content and discussion.
During the conference, attendees will explore the latest innovations within the Internet of Things and cover the impact it has on many industries including Manufacturing, Transport, Supply Chain, Insurance, Logistics, Government, Energy and Automotive, this conference is certainly not to be missed.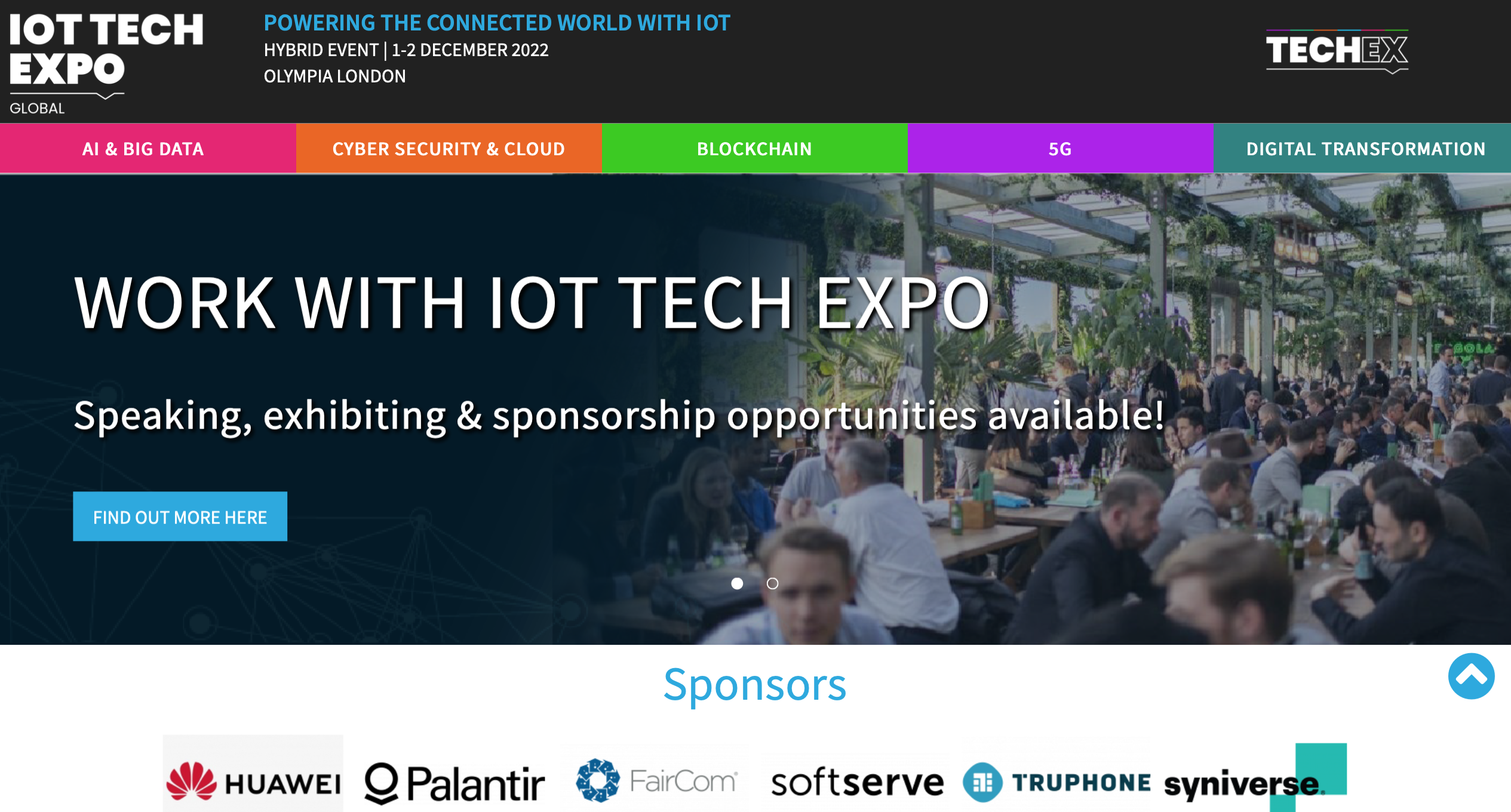 No.8 - PI LIVE
18-19 October 2022 London
PI Live is one of the top leading marketing conferences and it takes place in London in October 2022. It's a leading global meeting place for performance marketeers and other industry professionals.
The organisers of PI Live will ensure that all attendees make new connections, learn more and get an ROI on attending the event.
A key component of PI Live is their line up of speakers which is the centre point of the show.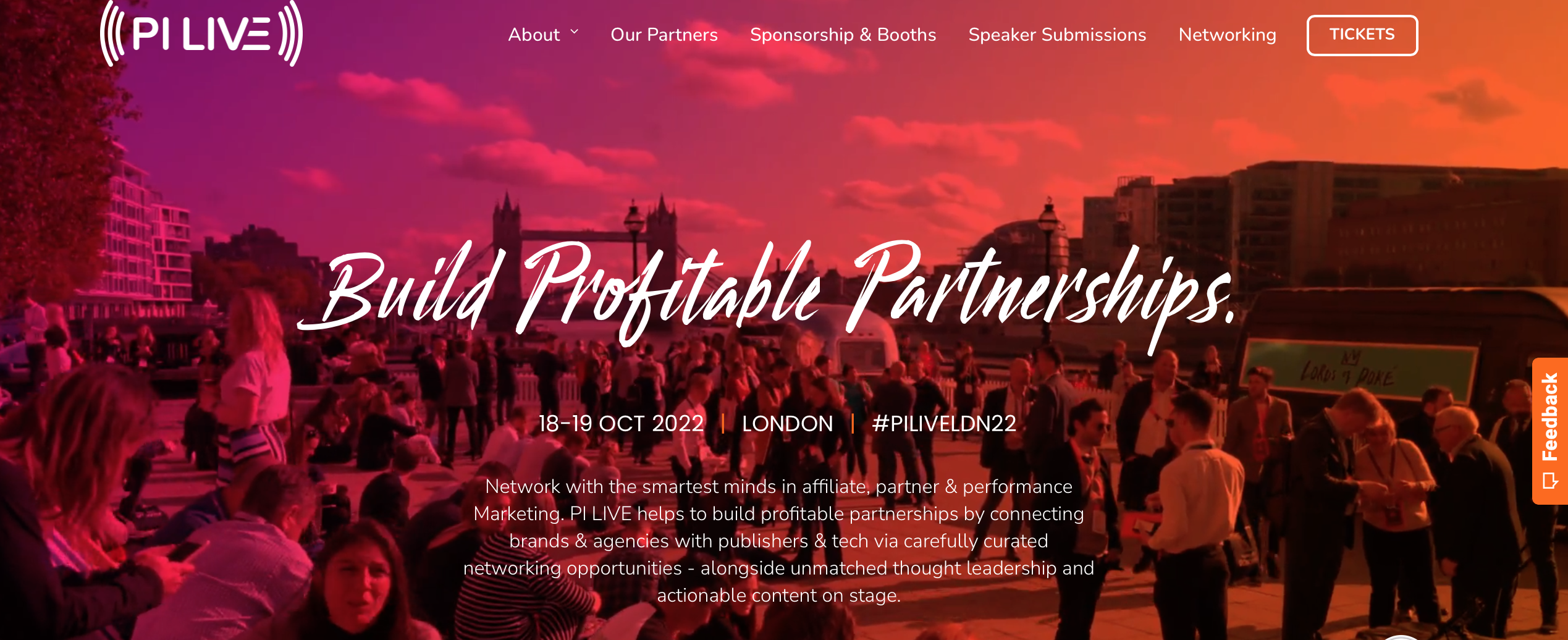 No.7 - CLOUD EXPO
8-9 March (2023)
Cloud Expo Europe is home to tens upon thousands of senior IT buyers and executives. Most have come to source solutions and services from across the IT landscape.
Unlike many events who like to shout about the great and good of facilitating, Cloud Expo Europe is a tried and tested platform that offers real results for 550+ exhibitors and sponsors who return year after year to leverage our event as a primary generator of hundreds (often thousands) of sales ready, qualified leads.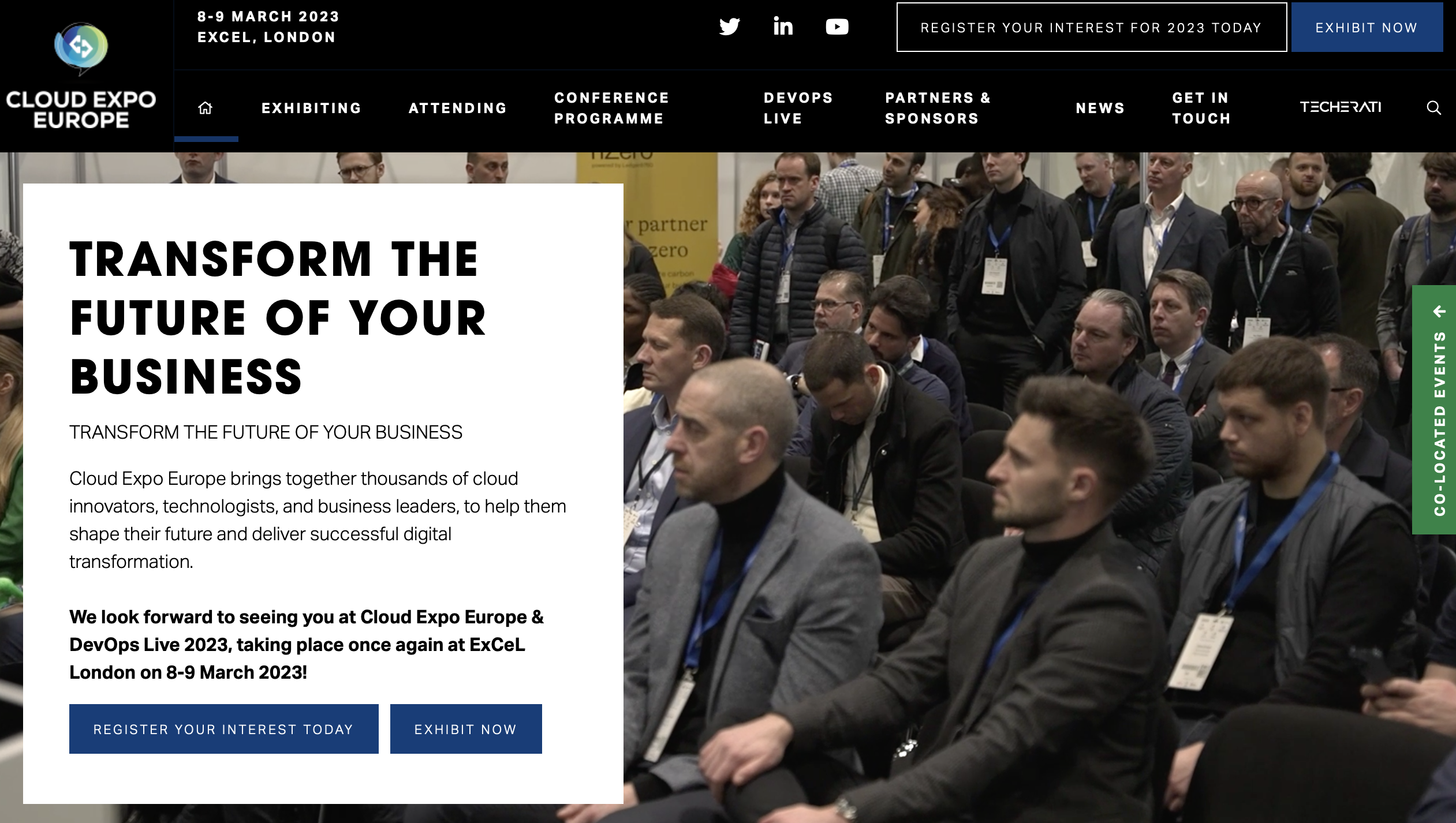 No.6 - MCM COMICON
27th, 28th, 29th May 2022
MCM Comic Con events are the UK and Ireland's and most exciting pop culture shows, and the only UK based shows that bring together such a broad scope of popular culture categories including; Movies, Gaming, Comics, Anime, Television, Gadgets, Clothing and Toys.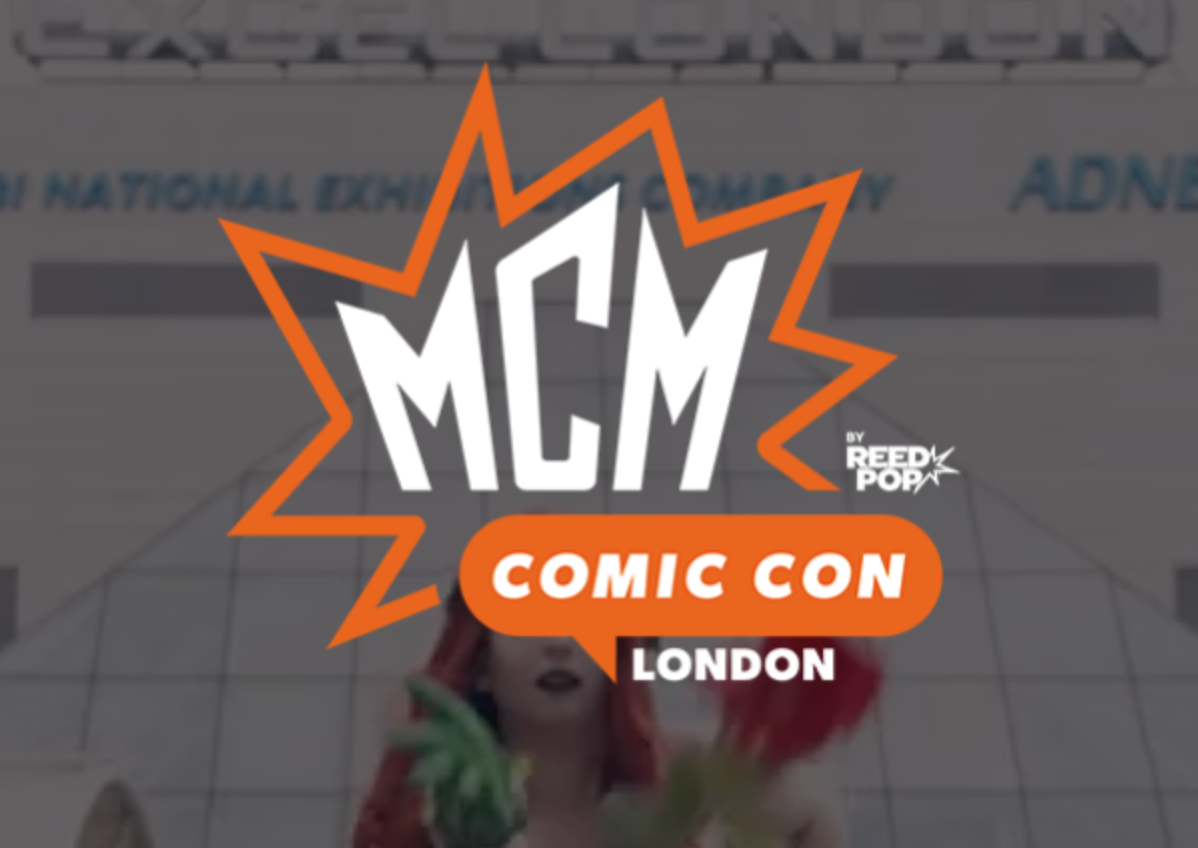 No.5 - THE BUSINESS SHOW 2022
16th & 17th November 2022
The Business Show is one of Europe's biggest events for entrepreneurs looking to start or grow their business.
All attend with the objective of improving and expanding their business while also looking to find and purchase the products and services their business needs.
Running for over 20 years, The Business Show is Europe's premier business event combining unrivalled face-to-face networking opportunities, a world class speaking line-up, a host of educational masterclasses and all the support a business will need for future growth.'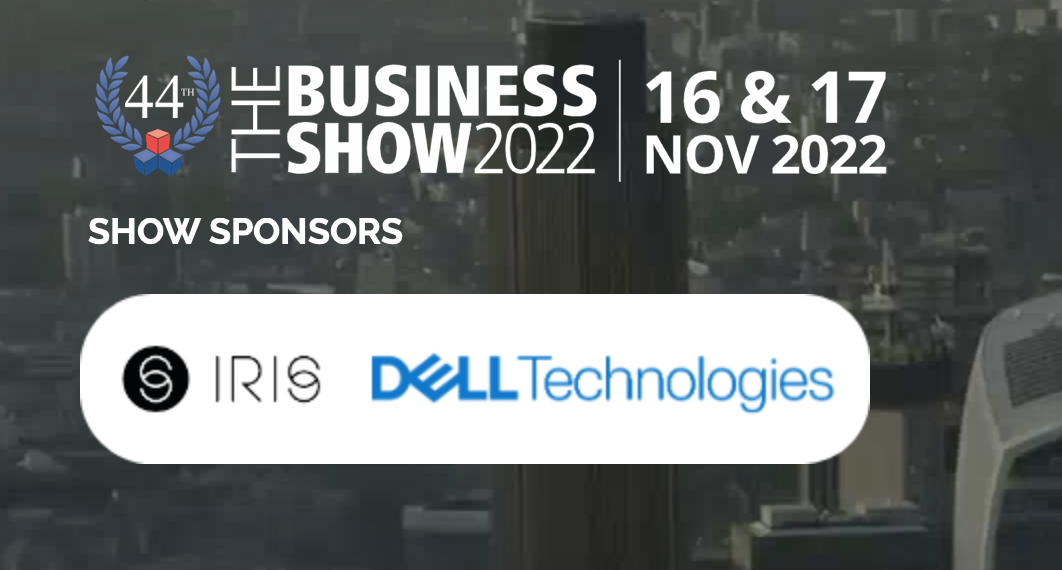 No.4 - B2B MARKETING EXPO
22 – 23 November 2022 (ExCel London)
B2B Marketing Expo is an interactive exhibition and conference designed specifically for the marketing sector. Expect to find high-quality exhibitors alongside a conference showcasing some of the world's most influential figures in marketing.
Exhibiting is one of the most efficient, effective and successful marketing activities available to you. Having a presence at B2B Marketing Expo will give you exposure to an audience of over 7,500 marketing directors, executives and decision makers, and provides the opportunity to sell your products and services to these highly targeted visitors on a face to face basis.
The B2B Marketing Expo will be one part of The Marketing Expo, three expos under one roof and the biggest Sales & Marketing event in Europe!

No.3 - UK CONSTRUCTION WEEK
UKCW Birmingham 4-6 October 2022 – NEC
UKCW London 2-4May 2023 – ExCel
The UK's largest built environment event, UK Construction Week (UKCW), is FREE to attend and consists of nine shows: Timber Expo, Build Show, Civils Expo, Plant & Machinery Live, Energy, Building Tech Live, Surface & Materials Show and HVAC 2019 running from 8-10 October and Grand Designs Live which is open to the trade on 9-10 October.

No.2 - INTERNET RETAILING EXPO
11th & 12th of May 2022
IRX is the place to meet over 5,000 serious prospects, with serious multichannel projects, who will spend over £100million on multichannel products and services in the next 12 months. The event blends marketing with technology, eCommerce with customer facing design, mobile with in-store experience – the full range of skills and capabilities to sell in the multichannel era.
Exhibiting at IRX is a great way to share the latest technologies with fresh faces and increase your company's profits.
A few words from IRX themselves:
At IRX we cater for all types of businesses from SME's to large online multichannel retailers. Our visitors span from CEO's, Directors, Senior Managers and Executives. Exhibiting at IRX will be the best business decision you make in the next 12 months.
No.1 - SPRING AND AUTUMN FAIR
Autumn Fair: 4-7th September 2022 – NEC Birmingham
Spring Fair: 5-8th February 2023 2023 – NEC Birmingham
In First Place, it has got to be both the Spring and Autumn Fairs.
For those looking to expand their online retail or eCommerce business, you would be silly to miss these events.
The Spring and Autumn Fair is now celebrated as the season's number one wholesale gift and home trade show and is a must-attend event for UK and international buyers.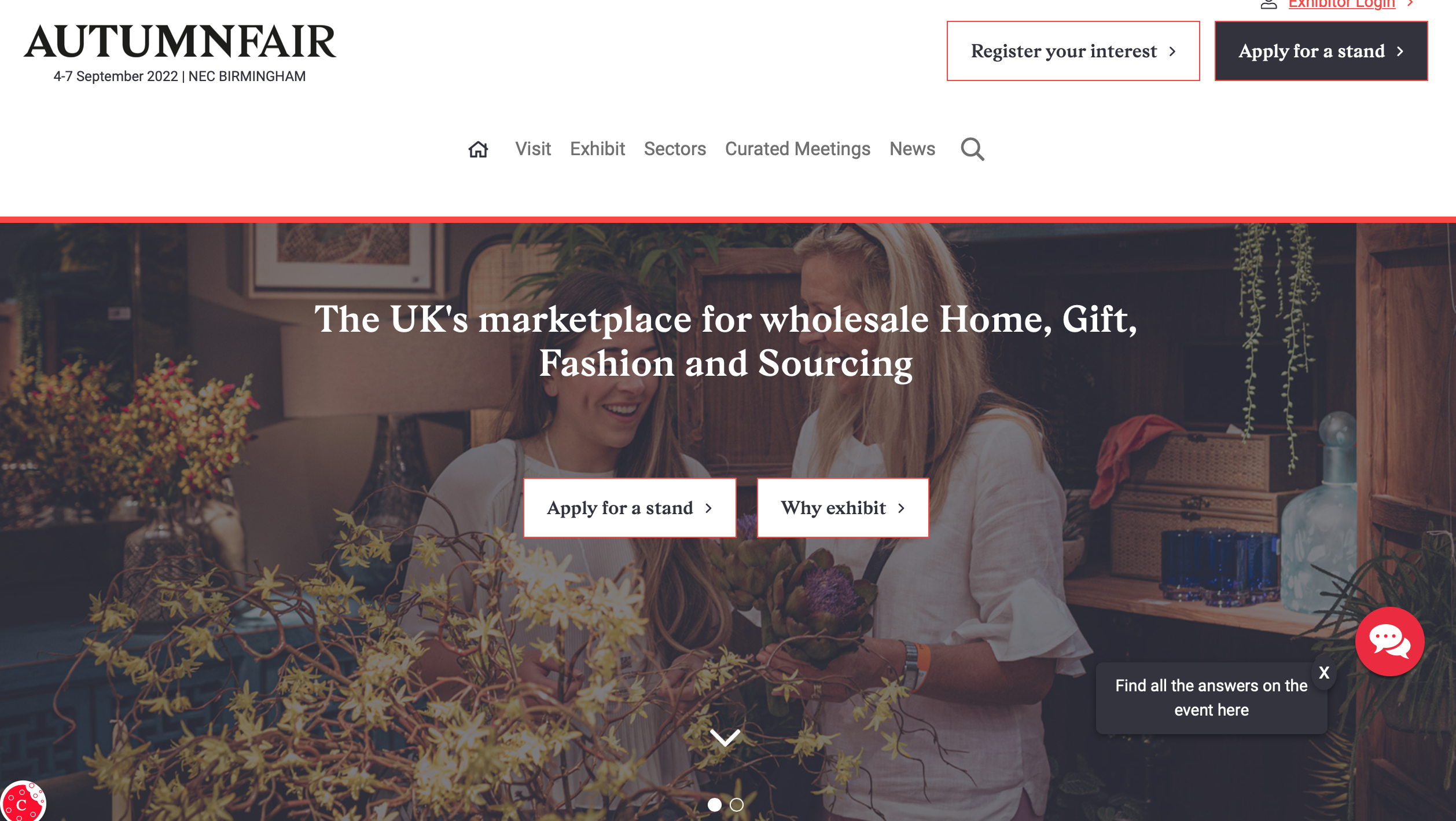 Independents, multiples and online retailers visit Autumn Fair to look for the best new products and innovations ahead of Christmas, Valentine's Day, Easter, Mother's Day, and Spring.
The Spring/Autumn Fair attracts more than 58,000 visitors and spans numerous halls. A colourful conglomeration of mass and independent retailers means that there's something here for everyone regardless of budget. Register in advance as it is free for all trade visitors or potential business owners. There's plenty of parking and public transport too to make things easier.
An absolute necessity for traders, the next fair coming up is the Autumn Fair (At The Birmingham NEC 4-7th September 2022)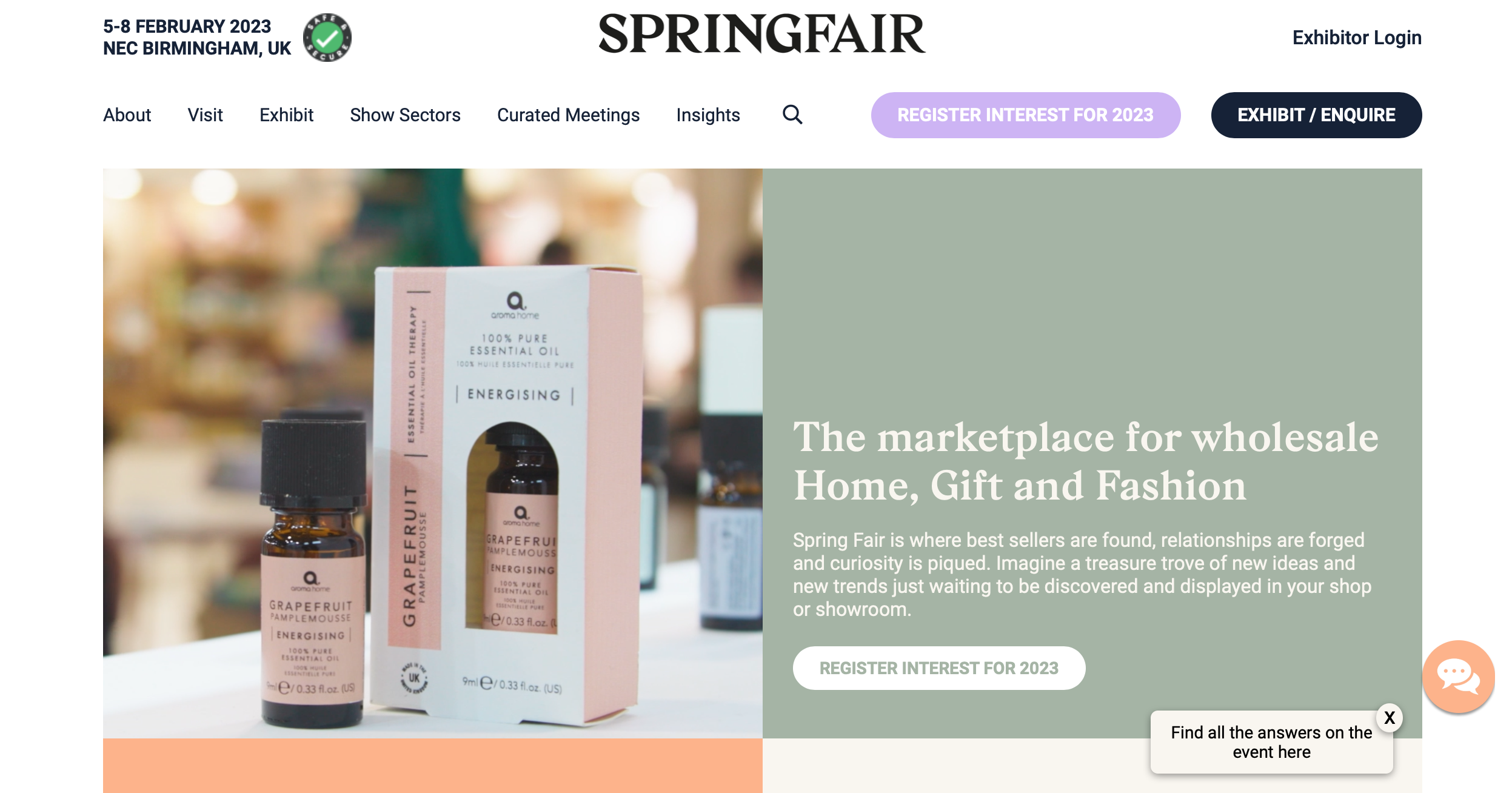 How Can I Benefit From Visiting Trade Shows & Fairs?
There are a number of reasons as to why you would want to visit Trade Shows and Fairs.
To help break things down for you, we've included a short video explaining exactly how your business will benefit when you get to networking at trade fairs and shows…
The Big List - Extended
Best Trade Shows in 2022 - According to Silverspot Trading (International)
Over To You!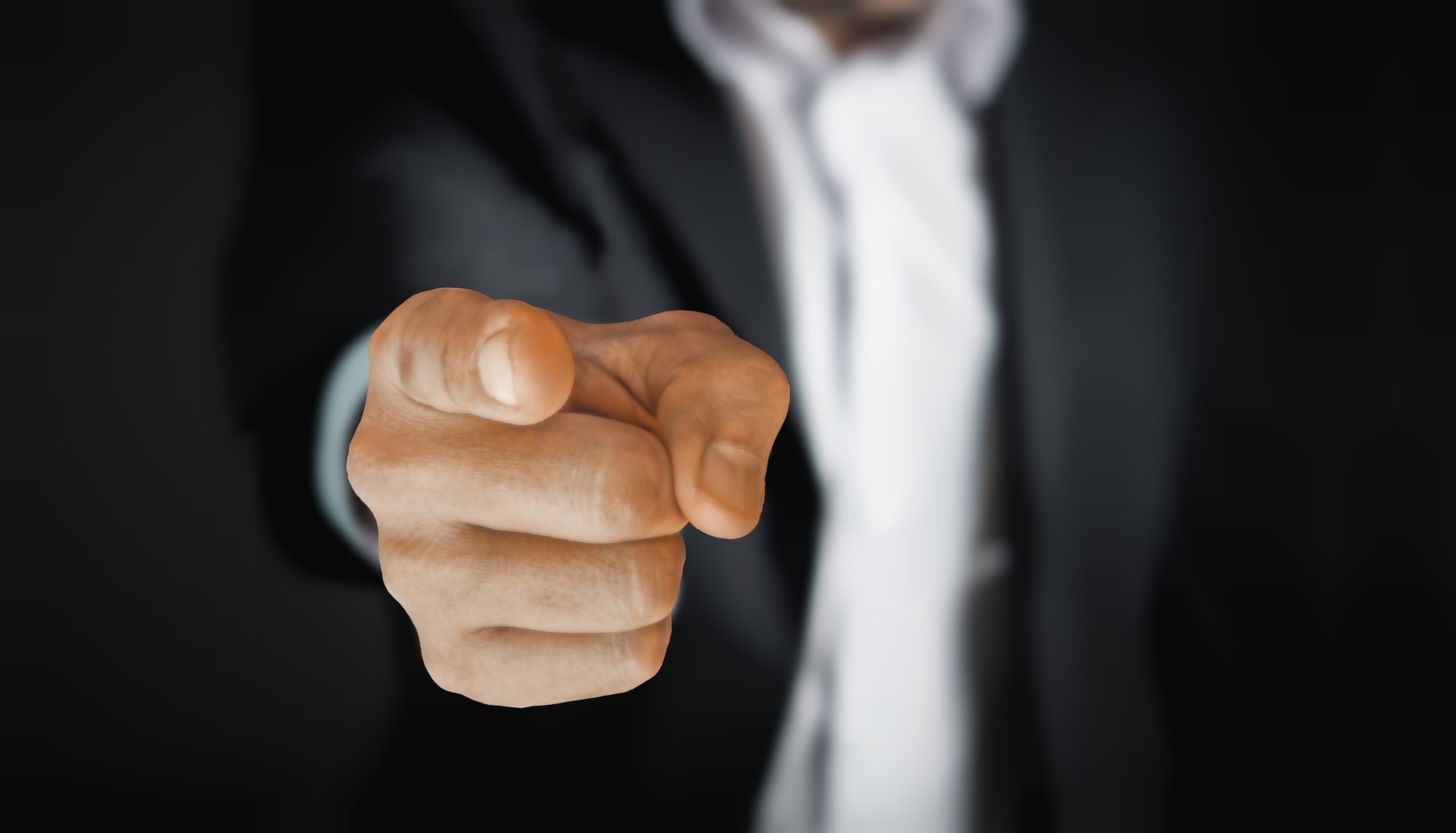 So which is your favourite? Are there any that you are going to make a point to attend?
Also, are there any Wholesale Trade Shows and Fairs that we've missed out?
If you'd like us to include one, please do let us know.
Thanks So Much For Reading