Lockdown has been tough for many retail and wholesale businesses, but which area of the UK are businesses most likely to file for insolvency? Here at Wholesale Clearance, we decided to investigate the areas with the worst hit businesses between March 2020 and September 2021 and compiled a list of the top 10.
The Top 10 Regions in the UK with the Most Retail Insolvencies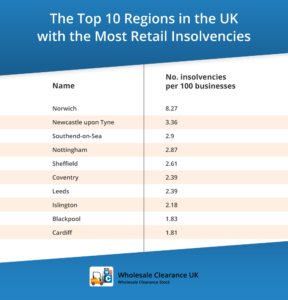 At the top of our list, we have Norwich with a whopping 8.27 businesses shutting down for every 100. Next is Newcastle upon Tyne with 3.36, followed by Southend-on-Sea with 2.9.
But what could have caused this many businesses to shut down? During the winter of 2020 Norwich were hit particularly hard with rising COVID cases and were put into Tier 4 just after Christmas with record high cases. The rules of tier 4 were similar to a national lockdown, with essential businesses the only ones to remain open and everyone advised to stay home. This inevitably had a detrimental effect on retail and wholesale businesses as they rely on foot traffic for much of their revenue.
The region with the highest unemployment rate is the North East, this is the region Newcastle upon Tyne sits in. The unemployment rate in Newcastle is the highest of all regions mentioned at 7.7%, as of December 2021 the UK unemployment rate is 4.2%. Less employment means less consumers on the high streets, leading to a vicious cycle for retail and wholesale businesses.
The Top 10 Regions in the UK with the Least Insolvencies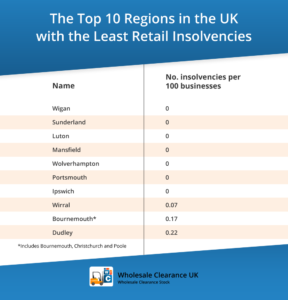 At the other end of the table, we have Wigan with no insolvencies listed. Interestingly, the population in Wigan were actually the worst hit by COVID cases per 100,000. It seems this didn't stop them supporting their local businesses though. Similarly, Sunderland and Luton also high COVID cases and no insolvencies.
Overall, our top 10 businesses with the highest level of insolvencies are relatively spread out throughout the UK. That being said perhaps Norwich should be avoided for new retail and wholesale businesses. Wigan, Sunderland and Luton seem to suit if retail businesses are looking to prioritise longevity alone.
Methodology:
We asked for an FOI requests from local councils for the number of insolvencies from SIC 46 and SIC 47. We then found the number of local businesses and divided the total insolvencies by number of local businesses, we then multiplied that by 100 to find the number of insolvencies per 100 businesses.