How To Sell Successfully On Facebook Marketplace
Can you make good money selling on Facebook Marketplace? Well, yes is the quick answer. Plenty of sellers are disillusioned with the likes of eBay – particularly small businesses, so selling on Facebook makes perfect sense.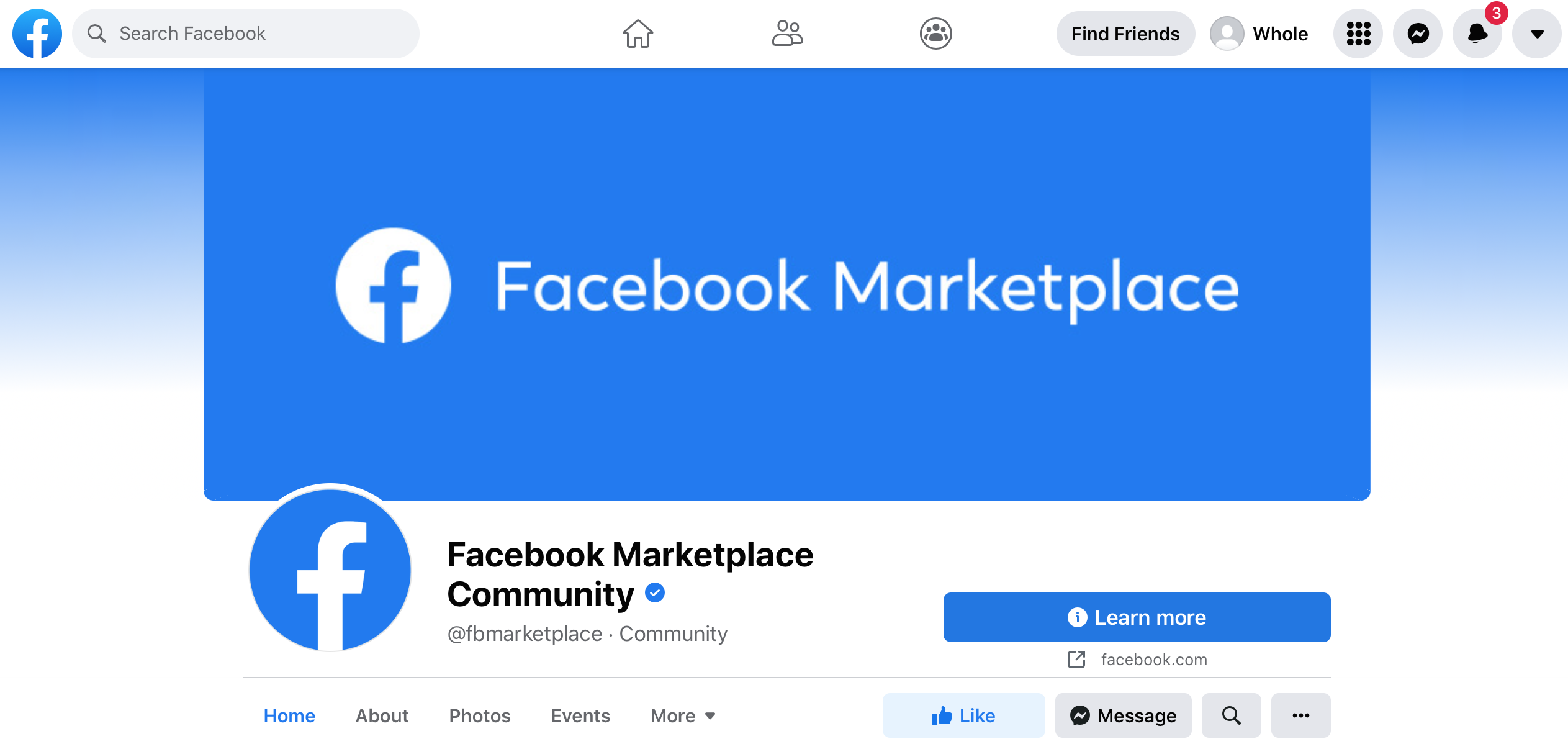 To find out how to do so, and successfully, just read on for more …
Why Facebook Marketplace?
Facebook has over 2.85 billion ACTIVE users every single month (as of 2022). That's certainly a lot of noughts (2,850,000,000), and a lot of potential custom.
Of course, you can't target them all, and many will live outside of the UK, but still, even a micro fraction of 2.85 billion would potentially make you a very happy business person.
Reaching over 100,000 active Facebook users is certainly going to have a significant effect on your sales margins. But how else can you benefit from selling on Facebook Marketplace?
The Benefits - Selling on Facebook Marketplace
There are a variety of benefits to be had when selling on Facebook Marketplace. So it comes as no surprise that more and more people are setting up shop.
From couples needing a clearout, to young and budding entrepreneurs, Facebook Marketplace is becoming a household name, and for very good reason.
Just take a look at some of the many benefits below:
Sell Locally, Quickly, and Efficiently
Free From Fees or Commission
Create Your Own Store
Connect Sales Via WhatsApp / Messenger / Instagram (Location Dependent)
Share to Relevant Groups on Facebook (For Free)
Add Up to 10+ Photos Per Listings
Ease of Use – Facebook Platform and Interface (Uncomplicated and User Friendly)
Small Businesses & eCommerce - Setting Up Shop
For small businesses looking to start or expand their online store, using Facebook Marketplace can be an excellent way to reach out to more customers.
So even if you already have an online store with a different platform, on Facebook you'll need to start by setting up your Commerce Manager.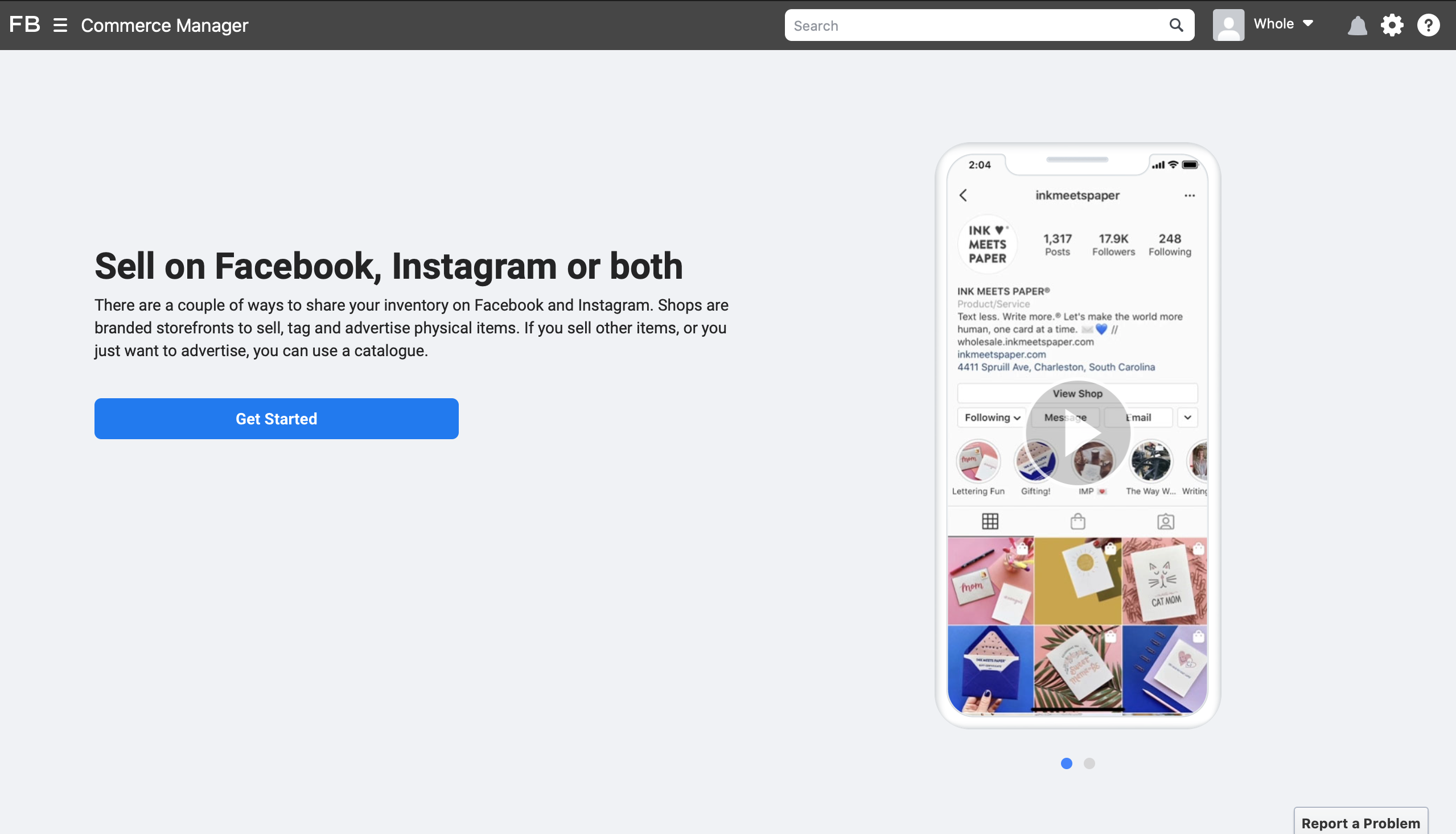 Alternatively, you can take a look at our video below, for a step-by-step tutorial.
Step 1 - Login & Get Started
Quite simply login to your account, and click on the blue tab which reads 'Get Started', found on the left-hand side of the page.
Step 2 - Choose a Checkout Method
There are currently three checkout methods to choose from:
Number 1: Your Website
If you choose this option, when customers check out (after browsing on Facebook) they will be directed to your personal site. You should choose this option if you already have an online store, and the payment method is already arranged.
Number 2: Messaging
This option is great for instant sales, by checking out with messaging, your buyers can message you privately to make a payment. If you want to do so via Whatsapp, you will need to create a Whatsapp Business Account. Therefore, if you choose this option, you will need your own way to process payments and deliver orders.
Number 3: Facebook, Instagram, or both… (US only)
Currently only available to business holders in the US, instead of being directed to another site, customers can checkout via the platforms mentioned above directly. Selling fees apply with this option, and payouts are issued within (8-10) business days.
In order to complete this step successfully, you will be required to enter some information about your business. To find out what exactly you might need, please click here.
Step 3 - Select Your Business Page
Simply select the 'Business Page' that you want to add your shop to. For Example: Wholesale Clearance
Step 4 - Choose Where Your Shop Goes
Under the tab 'Where people can view your shop', you will need to select whether you would like your shop to be based on your Facebook Page, Instagram Business Profile, or both.
Step 5 - Preview & Launch Your Shop
Before you launch your shop, you will want to click on the 'Preview' tab to make sure that everything looks in order. Once you are satisfied, you can go ahead and launch your shop, knowing that your customers will have all the information they need to make a purchase.
Please Note: There are currently a number of restrictions that only allow businesses based in the US to make use of some of the features mentioned above.
Selling on Facebook Marketplace & Facebook Groups
Whilst you can also leave your post on Marketplace and wait for interested customers to message you, there are a variety of other ways to reach out to potential buyers without setting up a shop at all.
What's more, is that on Facebook Marketplace you can do this all for free; via posting on relevant Facebook Groups.
Marketplace - Personal Sellers
For personal account users wanting to sell on an occasional basis, there is no need to create a store or business account. You can easily use your personal account to create a listing…
Presuming you already have a Facebook account, you can go ahead and log into your account. If you still don't have a Facebook account, you can learn how to set one up, right here.
Simply follow the steps below to create an advert or listing in minutes:
Step 1 – Log into your Facebook account, and click on the Marketplace icon to create a listing.
Step 2 – Upload/add images and all the necessary information before publishing your advert.
Step 3 – Double-check your listing via the preview and share to Marketplace.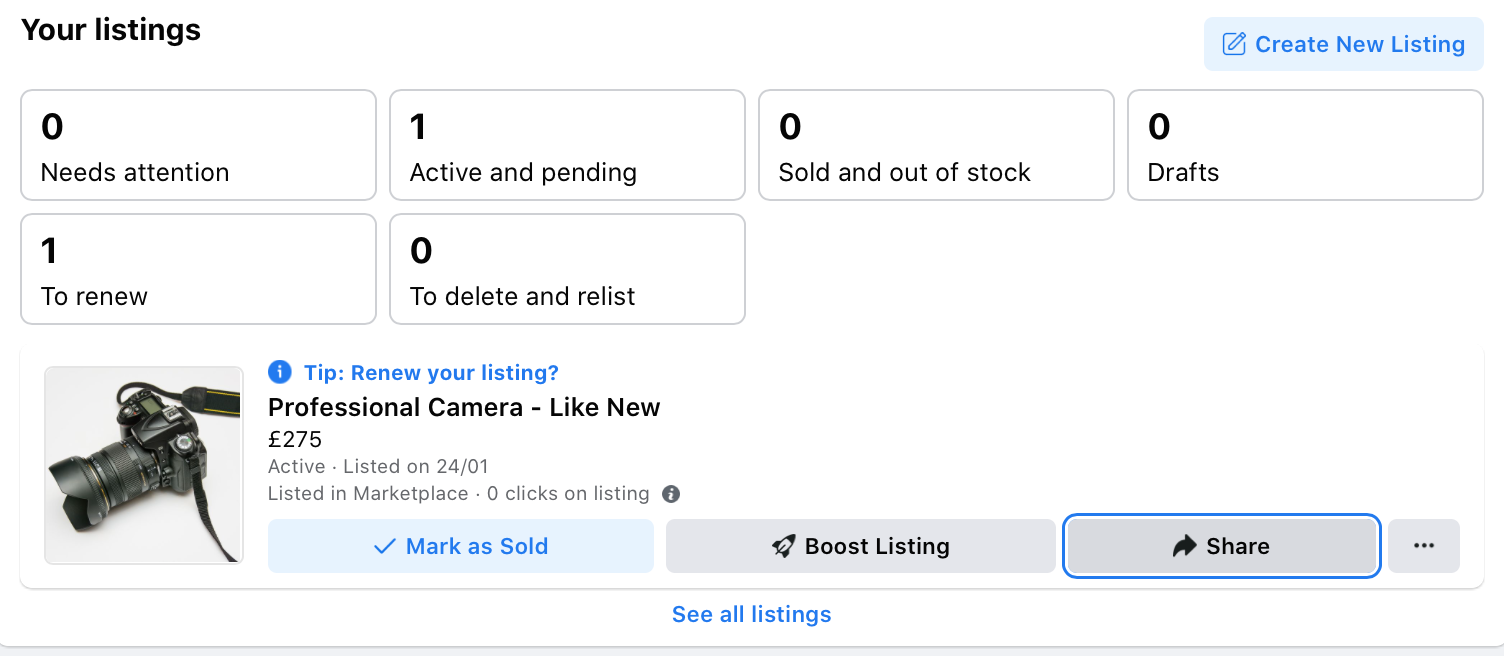 Step 4 – (Optional) Sponsor your advert to increase your chances of a quick sale.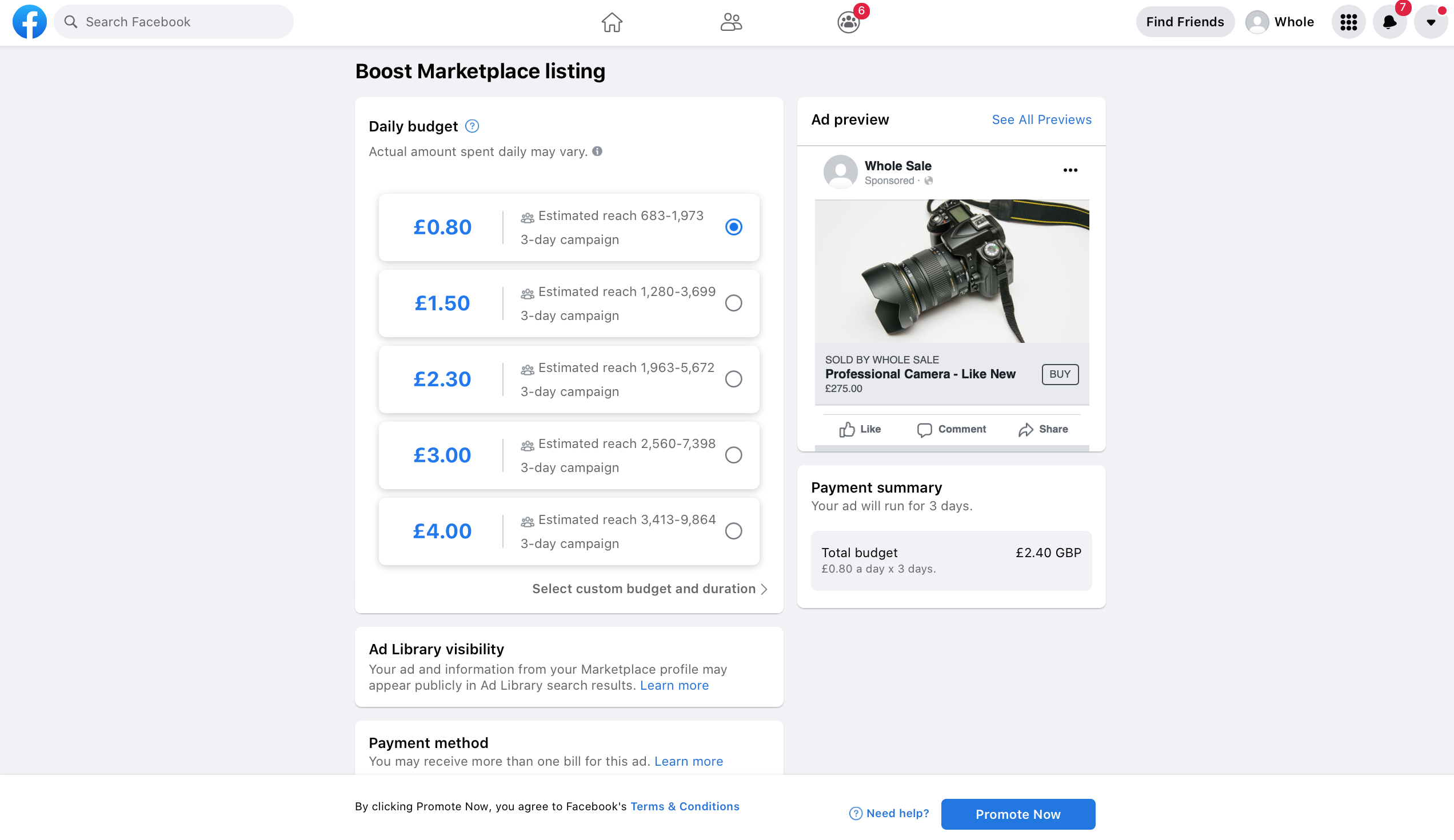 Top Tip: For the best chance of a sale, make sure you add as much relevant information as possible, as well as several good quality photos.
Share on Groups or Publicly Via Your Page
By now you should effectively know how to create a post on Facebook Marketplace. But how exactly can you reach out to as many customers as possible?
Well, that's easy, you need to find the right local groups to share your advert on. There are plenty of specialist groups that have been categorised by region, locality, or item type.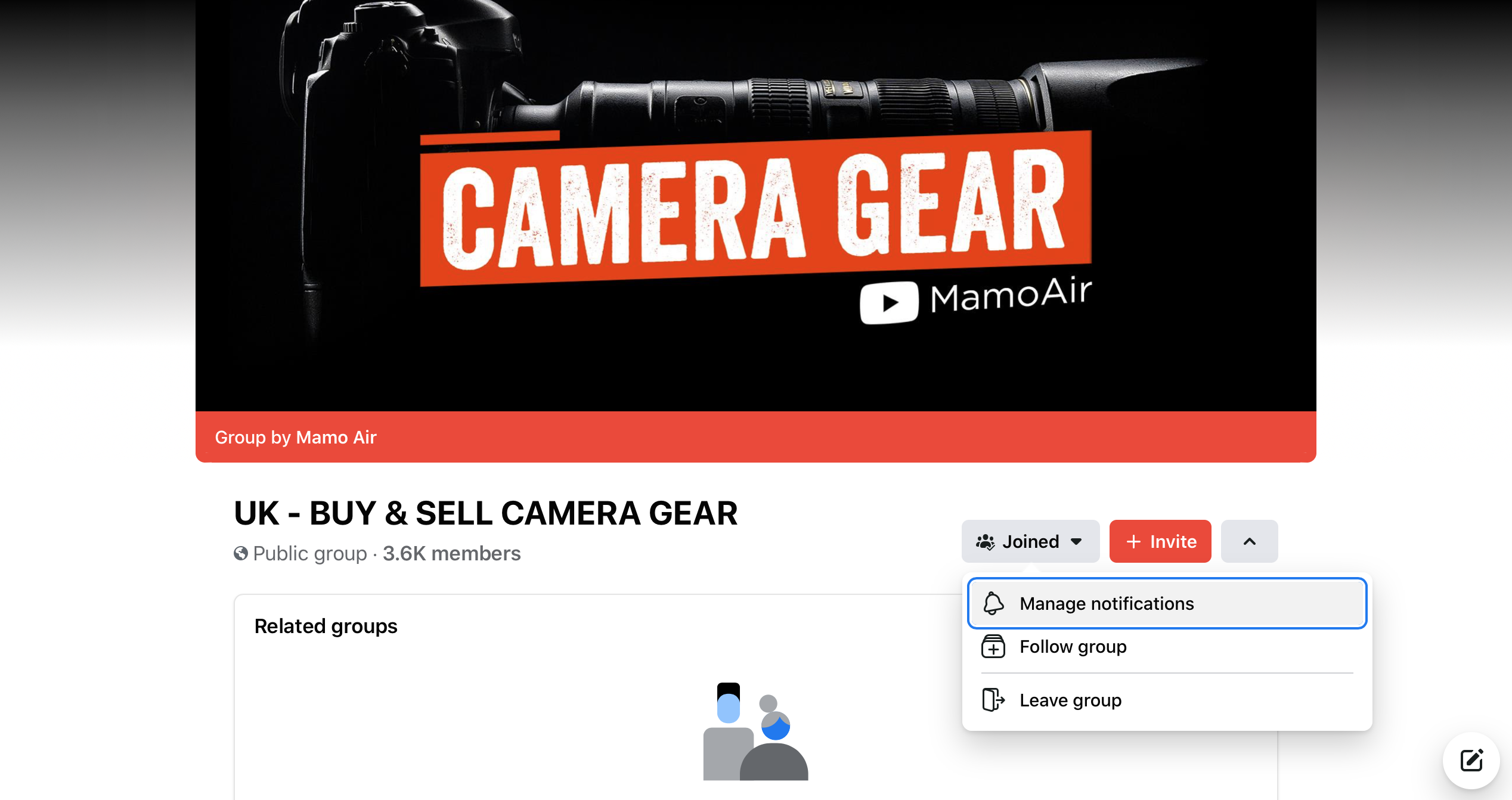 Although you may already be a member of several relevant groups, you might want to ask to join more; giving you the best possible chance of a quick sale.
Once you have created your listing you can search for the appropriate groups in your area or locality to promote your items. Just ask to join the group, and make sure sales posts are allowed to be shared (usually the Administrators will state this on the group's page).
To give yourself the best possible chance of a sale, we would recommend posting in a variety of relevant groups. As groups are usually private, when you share your listing, the post will only be visible to confirmed members of the group (unless the group is public).
As well as posting your listing in groups, you can also share it on your private page, or with friends and family members on messenger. The wider your reach, the more chance you will have securing a quick and smooth sale.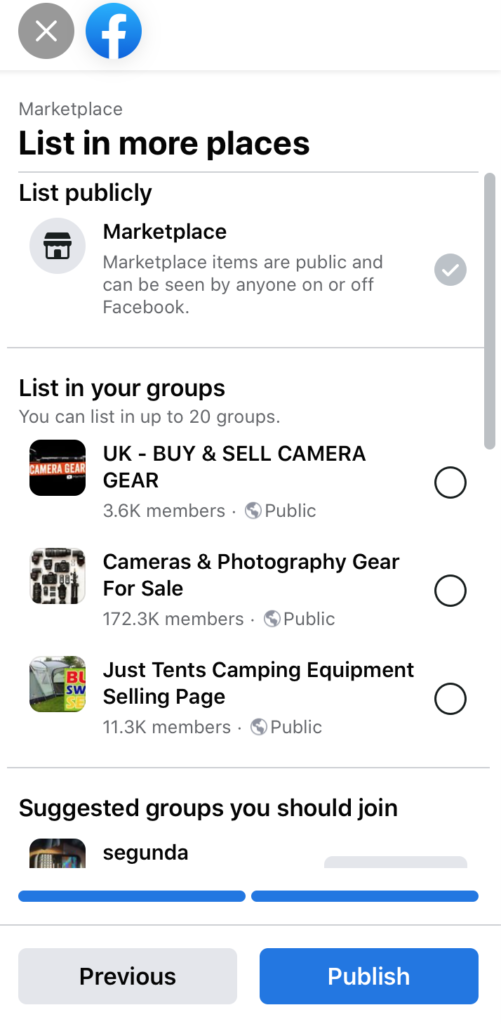 So there you have it, our compact and concise guide on:
'How To Sell Successfully On Facebook Marketplace'
Good Luck and don't forget to check out our other guides on 'Selling Successfully' via eBay and Amazon right here.