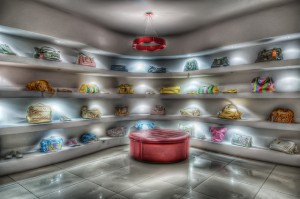 Clearance Handbags: Arm Candy For Happy Shoppers
Women love handbags – fact! But the designer bags seen hanging off the arms of celebrities are completely out of the price range of your typical girl about town. Savvy retailers can offer their customers the perfect alternative, with branded clearance handbags from Wholesale Clearance.
Wholesale Clearance has the buying power to take advantage of amazing liquidation sales, as well as snapping up surplus and last season's stock, meaning that it can offer you joblots of branded handbags for a song. You're sure to have some very happy shoppers when offering affordable branded arm candy at low prices.
Brands currently available at Wholesale Clearance include trendy Playboy and Pacha brands, as well as genuine leather handbags and bags from popular high street stores. Stock up your shop with shoulder bags, tote bags, evening bags and more, and ensure that you offer enough choice to see a loyal customer base returning time after time.
As well as finding low cost joblots of quality handbags at Wholesale Clearance, retailers can also find shopping bags, rucksacks and gym bags, travel and makeup bags. Of course, stock is changing continuously so be sure to check back regularly for the latest and best bargains.
Wholesale Clearance is able to pick up bankrupt stock from liquidation sales at rock bottom prices, meaning that it can offer amazing discounts on RRP's to retailers, who can then, in turn, pass on saving to their customers. These makes for happy shoppers all round!
Of course, low cost doesn't mean skimping on quality. All Wholesale Clearance joblots contain only good quality, new items – many with the original packaging and tags. You won't find damaged 'seconds' goods, only quality surplus, last season's and bankrupt stock at fantastic prices.
Make yourself a popular retailer with the ladies by offering quality branded clearance handbags at low prices. After all, the way to a woman's heart is surely through her handbag!