What Sells Best on eBay? And The Best Things to Sell for Profit 2023

Anyone can sell on eBay.
However, to be successful takes hard work and a considered strategy.
One of the keys to becoming a profitable seller on eBay is a desirable inventory.
Although time-consuming to track the latest trends, it's a necessary evil – even established sellers struggle to shift products that customers don't want.
Consumers' needs are constantly changing.
Whether it be following the hottest new trends or reacting to global changes – as we've seen with the COVID-19 pandemic – knowing what to stock and who you can target is a must.
You can do this by:
Brainstorming
When you're brainstorming, it's okay to think outside the box – if anything, it's essential.
Creating a selling persona is one way of doing this. Let's create a basic example.
We'll call our persona David. David is aged 30, with a steady, 35k a year job. He is interested in sports, staying healthy, fashion and technology.
He normally finds himself shopping on his mobile and likes finding good deals. He usually shops during his lunch break on his phone at work, or on his tablet at home in the evenings or at weekends.
By breaking down our persona, we can imagine they'd likely be interested in sports, tech and fashion items.
Checking The Market
If you're struggling with ideas on where to begin, review the market. Many places – like Amazon's 'Movers and Shakers' section, Google trends or even looking at the news – can kickstart ideas on what to begin buying and selling.
Google Trends' range of drop-down menus allow you to sort by country, date and region – letting you view real-life markets you might be able to tap into.
E-commerce giant, Amazon, offers a similar tool on their 'best sellers' page. Updated every hour, users get an insight into popular goods and categories that are selling well. This lets sellers gauge key trends to jump on in real-time.
It's also worth looking at the 'Movers and Shakers' page that gives products a 'sales rank' based on how many people are browsing and buying. This can also be a good indicator of a product's performance.
Head To Trade Fairs
If you're starting out, trade fairs serve as a beacon of inspiration. Networking at these events helps you gain valuable market insights from more knowledgeable sellers – and many of them will be happy to point you in the right direction.
As well as individual sellers, there are often large companies that attend. And they often telegraph their forecasts and predictions for what products are going to be big hits and ones that will flop, giving you inside information to help you make the right picks.
Checking Foreign Dealers For Better Prices
There are a vast range of bargains to be found on wholesale websites if you branch out internationally.
Alibaba.com – one of the most commonly used sites, for example – uses category pages and 'Top Selected Suppliers' section to help users sift through the best deals.
However, be careful as a lot of wholesalers have minimum purchase requirements to get the cheapest offers – something that Wholesale Clearance UK doesn't do.
It's best to steer clear of branded items.
By ordering big-name brands from overseas, you could end up with fake goods. If a deal seems too good to be true, it usually is.
Buying the right products isn't an exact science.
Unfortunately, striking a balance between identifying popular products and matching consumer demand is difficult due to factors like conflicting trend information or oversaturation in the market.
The Ten Most Popular Things to Sell on eBay in 2023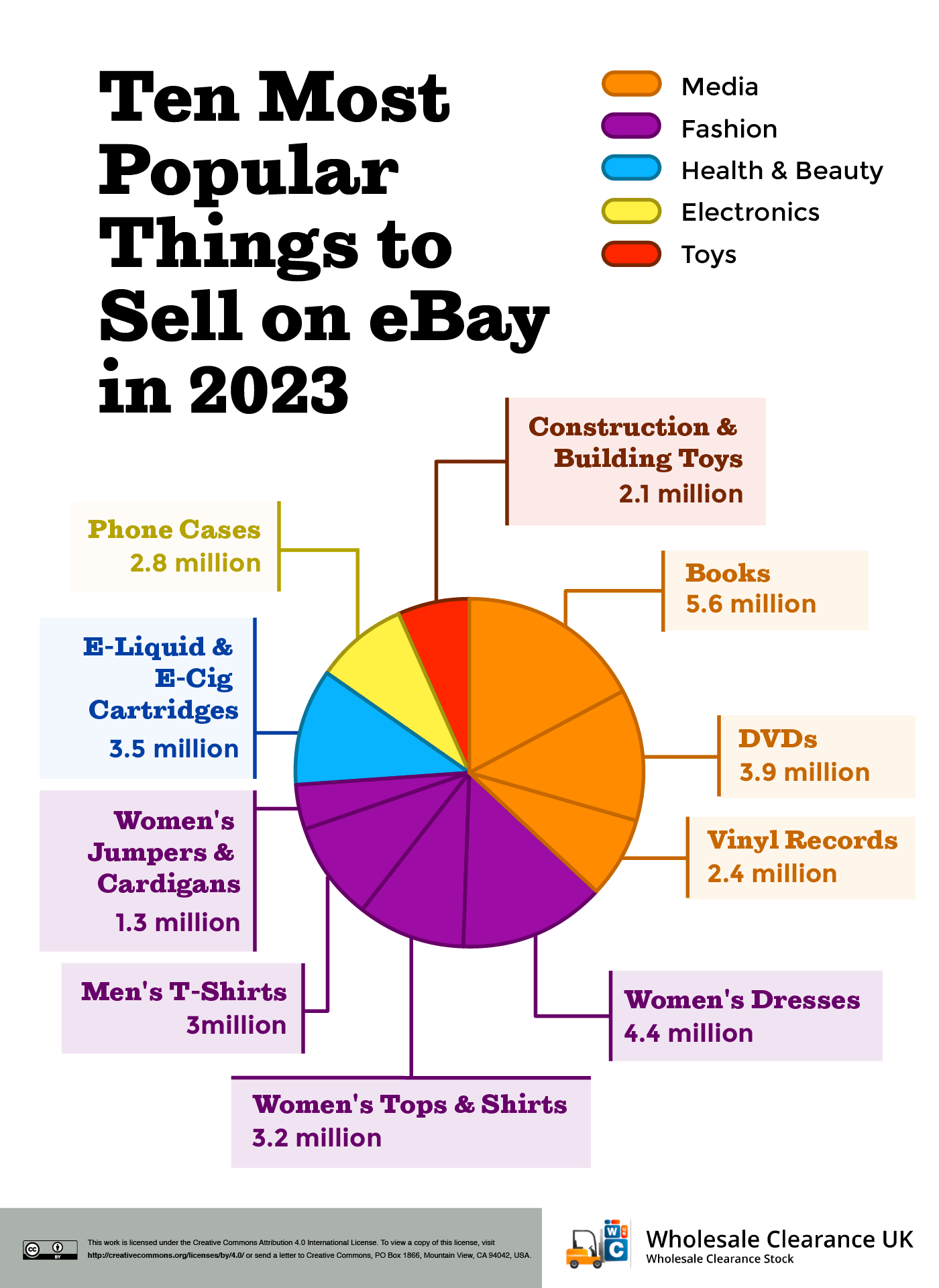 As trends develop and people's needs change, so do the most popular consumer items – creating a surge in second-hand supply from a whole host of sellers.

Here's our current list of the most popular things to sell on eBay, based on our in-depth research*.
1) Books
Books are increasingly popular and in demand, with the highest sales of the products analysed – and eBay is a hotbed for book sales. Whether you need them to help with your studies or enjoy sinking your teeth into a good story, eBay is a great place to buy and sell them.
Total sold: 5,630,995
2) Women's Dresses – When you think of selling second-hand clothes, you might turn to apps like Depop before heading to eBay. However, with this category producing some of the highest sales figures on eBay, you could find what you're looking for – or even make a bit of cash yourself!
Total sold: 4,409,220
3) DVDs – With the popularity of streaming services rising, demand and sales figures for DVDs are surprisingly high. If you've got a bevy of old DVDs you no longer watch, there's money to be made right under your nose.
Total sold: 3,942,344
4) E-Liquid & E-Cig Cartridges – Vaping is becoming a popular alternative to smoking, so, unsurprisingly, the total grossed from sales of E-liquids and E-cig Cartridges has increased by 184% since 2021. With growing concerns over the environmental impact of single-use plastic vapes, 2023 and beyond could see an increase in the sale of reusable versions on the online-marketplace.
Total sold: 3,487,322
5) Women's Tops & Shirts – Another sub-category of women's clothes with high sales is Women's Tops & Shirts. So, with a clear demand for them on the marketplace, why not clear out your old t-shirts and make some profit this year?
Total sold: 3,221,277
6) Men's T-shirts – Similarly to women's garments, getting a bargain is easy with the range of options available on eBay. With a high volume of men's t-shirts sold on the site, there's clearly an opportunity to make money off clothes that would otherwise gather dust in the wardrobe.
Total sold: 3,008,123
7) Phone Cases – As new phones become increasingly expensive to buy, protecting them is important to consumers. We predict that cases and other mobile accessories will continue to be a popular seller's choice for a while.
Total sold: 2,813,172
8) Vinyl Records – Vinyl records are having a resurgence in popularity, overtaking CDs for the first time in 35 years. And they don't just have to be new either, as only 30% of vinyl on eBay sold without a previous owner. 2023 is the perfect time to have a rummage through your old music collection to find any records and make some extra cash.
Total sold: 2,359,930
9) Construction & Building Toys – As kids grow up, parents often sell old toys to buy new ones. The most popular toy to sell is construction toys, which are the most sold toy sub-category on eBay – perhaps due to the popular brand Lego holding its value when being resold.
Total sold: 2,136,137
10) Women's Jumpers & Cardigans – The third women's clothing sub-category to sell in is Jumpers & Cardigans. When switching out your winter wardrobe, have a sort through your jumpers and make a profit of any you're unlikely to wear again.
Total sold: 1,323,788
The Top Ten Grossing Products and Brands on eBay
The best-selling and top grossing products on eBay 2023 are:
1) Laptops & Netbooks – £107 million
2) Watches – £105 million
3) Women's Dresses – £82 million
4) Bikes – £71 million
5) Vinyl Records – £56 million
6) Construction & Building Toys – £53 millionn
7) Books – £46 million
8) Men's T-Shirts – £45 million
9) Desktops & All-in-Ones – £83 million
10) Women's Boots – £35 million
Most Expensive Products Sold on eBay from Each Category in a One-off Auction:

Fashion: Richard Mille Grey Boutique Watch – £380k
Collectibles & Art: 2016 Battle of Hastings 1066 50p Coin – £70k
Business, Office & Industrial Supplies: Case Puma 215 Tractor 2014 – £60k
Sports, Hobbies & Leisure: 1964 Es-335 Reissue Vos In Vintage Burst 2021 – £57k
Fashion: Double-breasted leather blazer – £56k
Sports, Hobbies & Leisure: Power Boat – Monterey 275 SY in Mallorca – 35k
Electronics: Wilson Audio Alexandria X-2 Series 1 – £30k
Sports, Hobbies & Leisure: Pinarello Dogma F12 Discs Super Record EPS – £15k
Health & Beauty: Magic Mobility Extreme X8 Powerchair – £15k
Media: Massive Vinyl Record Joblot – £14k
The Top Ten Most Sold Brands on eBay
1) Apple – 15 million
2) Huawei – 2.7 million
3) Lego – 2.1 million
4) Samsung – 1.3 million
5) Pandora – 793k
6) Hornby – 577k
7) DeWalt – 518k
8) Makita – 509k
9) Dyson – 465k
10) Ikea – 443k
Top Ten Grossing Brands on eBay
Brands – Movers and Shakers of 2023
Want to see which brands have gained or lost popularity in 2023?

2022 Rank

1) Apple – £438.4 million
2) Samsung – £200.3 million
3) LEGO – £51.2 million
4) DEWALT – £48.3 million
5) Makita – £44.7 million
6) Rolex – £43.6 million
7) Land Rover – £36.7 million
8) Dyson – £34.9 million
9) Huawei – £34.2 million
10) Snap-on – £30.7 million
2023 Rank
1. Apple – £425m
2. Samsung – £124m
3. Rolex – £65m
4. LEGO – £54m
5. Land Rover – £43m
6. DEWALT – £37m
7. Makita – £31m
8. Nikon – £27m
9. OMEGA – £26.3m
10. Huawei – £26.2m

For businesses looking to flog inventory, or individuals looking to make some quick cash, you might already be sitting on items that have a surprisingly high value.
For example, the sudden boom in coin collecting has caused rare editions to become a commodity. And because they're everywhere, there's a likelihood individuals are harbouring rare coins without them even knowing – making it a simple way to generate some quick cash.
Given only 62% of eBay coin sales are 'new', it appears many are trading second-hand pieces, making it easy for individuals or wholesalers to turn a profit. So, it's worth checking behind the sofa and using rare coin sites to see if you have any matches.
With art also growing to be a trending commodity – especially online – vinyl records are proving lucrative. The percentage of new vinyl records is low at 33%, exposing a growing market for trading vintage items.
Because vinyl records hold their value, and specific artwork and musical artists are highly desirable, trading them is easy and profitable if you can find the right products.
Wristwatches are also surprisingly profitable. Because high-end watches diminish very little in value and retail value is high, you don't have to sell many of them to gross highly. With 1.5 million wristwatch sales on eBay – and a grossing figure ten times that – keeping an eye on this market can turn over sizeable profits.
Surprising Things That Sell on eBay
There are many helpful habits that wholesalers and individual sellers can adopt to increase their margins, ranging from simple listing changes to better understanding the markets you're targeting.
Simple changes start with making sure you're viewed as a reputable seller. You can do this by:
– Taking high-quality pictures of your items
– Making sure you complete all fields when listing products
– Using accurate logos, descriptions and categories when listing
– Improving customer service by ensuring safe and timely shipping
– Being proactive in seeking buyer feedback.
To Make Sure Your Optimising Your Sales
You should also:
– Make use of eBay's promoted listings feature to rank higher for your products
– Consider starting with lower bid prices to entice customers
– Consider lengthening your returns window as this is an attractive perk for prospective shoppers
– Conduct market research, price competitively and consider the condition, age, and demand of your product
How Much Does The Average UK eBay Seller Make
According to recent data, the average salary of an eBay Seller based in the UK is between £10,000 – £100,000.
On average, selling 15 items turns a profit of nearly £500.
However, changes to eBay's payment systems may impact profits, as the platform moves away from PayPal and towards direct bank account transactions.
Originally, eBay would charge a flat 10% rate on any sale, with 2.9% going to PayPal, meaning a 13% 'tax' on goods sold on the site.
With PayPal's additional fees now out of the equation, sellers can reap the rewards of a reduced 12.8% tax – this means more in your pocket.
Why Not Browse Our Site
At Wholesale Clearance, we offer advice and guidance on how to buy and sell on eBay, as well as boasting a huge selection of bankrupt stock.
See what gems you can uncover today!
We also recommend checking out The Wholesale Forums for more advice, too. Here, you'll find information on buying and selling goods and news on the hottest trends to kickstart your selling journey.
Methodology*
Wholesale Clearance used eBay's own market research tool, Terapeak, to identify top sold and top grossing products and brands over the past year. Data was collected from December 2021 – December 2022.
All top popular topics & brands according to eBay's all categories, were inputted individually into Terapeak.
Each brand and product was subsequently ranked.