You may have come across Shpock or at least heard of it before. They have run a few ad campaigns on TV although it seems to have been fairly low key thus far. However, word on the street is good – people are saying positive things about it, so I thought it would be worth taking a closer look and seeing how it can work for your small business.
In a nutshell
Shpock, short for Shop in your Pocket, describes itself as an alternative to eBay, and I have to say it is about time something challenged this megalith. Shpock is a mobile app available on iOS and Android, which you use to sell or buy items in your local area. A kind of more upmarket Gumtree perhaps.
It was originally started by Austrian entrepreneurs Armin Strbac and Katherina Klausberger in September 2012, who wanted to offer people a platform to buy, sell or give away unwanted "beautiful things" in their local area although I suppose as with all these ideas, you can pick up plenty of tat too. But as we all know – one man's junk is another man's treasure!
Estimates suggest there are now over four million users in Europe, and having launched in the UK in March 2014, it is already finding popularity and good reviews. It is aimed at the kind of person who likes to visit flea markets and car boot sales on weekends. Shpock claim to have the most beautiful classifieds. It is certainly worth a browse.
Usability
As you would expect you can search for what you'd like using category menus, so it is easy to navigate. If you want to sell something you just type in the fields of title, description and price, and add a photo. Your wares can instantly be seen locally. Classifieds with lots of texts are positively discouraged – your photo should do all the selling. You can share the photos on the usual social media outlets, so your friends can share your joy. Once the classified is up, people can get in touch to ask questions.
If you find an item you like, you negotiate and agree the price with the buyer, and then sort out who, where and when to pick up or drop off.
Registration
Registration is straightforward, and you can register via Facebook or E-mail. If you register via email you will be asked for a SMS-confirmation. No unnecessary data is taken from you, and nothing is shared with third parties. The app prefers Facebook, describing it as a way to keep a "Safe Marketplace", because not only is it incredibly quick to register, using Facebook helps to prevent annoying spammers and scammers. Who hasn't had those darn emails from people accessing your eBay data, offering to improve your shopfront and create a fabulous website for you?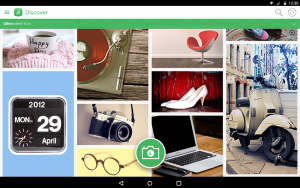 Location
Some people prefer to use Shpock without sharing their location. This is possible, all you need to do is manually set your location. This enables you to browse to your heart's content and store items to your watch list for future drooling over.
However, if you want to ask questions, buy or sell, you do need to switch on your location. This is a safety feature that shows an approximate location and is not shared with the seller.
How to sell on Shpock
You can sell anything on Shpock – toys, furniture, cycles, PlayStation games – whatever, although Shpock likes to think of itself as a marketplace for everything desirable. They encourage you to set a fair price and be realistic and be willing to negotiate. They suggest you are "Open for offers, but not free of charge". So, while you can get people to bid on your item, it mustn't start at £0, as they feel that this looks like you're happy to give it away. A sale becomes legally binding when both sides agree on the deal: in reality – one party accepts and the other confirms.
Editing your listings
Go to your profile and click on selling. You'll get a list of the items you have for sale. Go to the right product and then click "Edit" to change information about your ad such as title, description, price and category. You can also alter the location of the item in the edit menu, if for some reason it has mysteriously moved.
What you can't sell
You can't sell the things you'd expect really: animals, food, weapons, counterfeit items, things you need a license to sell. You MUST have taken the photo yourself, so you cannot use stock or internet images. More information can be found in the General Terms and Conditions.
Shipping and payment
Generally, the app is aimed at the local market, and so payment can be handed over when the buyer collects the item. However, you can arrange shipment and take payment via PayPal. Or you can use UPS, and the goods will only be handed over to the buyer when they pay the agreed price to the delivery firm.
A buyer can make an offer for your item and include shipping. It is recommended items are sent with insurance, and all receipts should be retained.
Buying on Shpock
Buying on Shpock is easy, you just use the search function, or add in filters (see different filters when you tap the filter button in the top right-hand corner of the screen). When you find something you love, you can click on "Ask Question" to ask a public question or "Private Offer" to make an offer with a price you think is fair to pay, and add a personal message for the seller if you wish. You then wait for the seller to respond to your offer and finalise the deal.
As we said before, the agreement becomes legally binding agreement when both sides agree on the deal: one party accepts and the other confirms. Just making an offer is not legally binding.
If the seller accepts your offer, you will have to confirm the deal before it is binding. You can respond to the seller's counter offer with another counter offer or accept his offer, then he/she will have to confirm the deal before it is binding.
It is wise to ask the following questions if you intend to buy:
• Does the buyer have to pick up the item personally or can it be shipped?
• Which shipment method do you want? (insured or uninsured)
• Who will pay for the shipment?
• Which payment methods are available? (Recommended: PayPal with buyer protection)
You can cancel the deal until the deal has been confirmed by you or the seller.
After a deal has been confirmed you can no longer cancel the deal, and you have entered into a legally binding agreement.
Your overview
You can keep an eye on all of your activity by accessing your news stream. Go to "My Shpock" and go to the tab "News", which will show you all the relevant activities for your account including questions, offers and chat messages. Things on your news feed disappear after 14 days unless you add them to your watch list. Your last three searches will be saved, but only until you log out of the app.
Shpock is available as a free classifieds app for iOS devices (iPhone, iPad, iPod) in the Apple App Store as well as for Android devices (smartphones, tablets) in the Google Play Store. As long as you have a device with one of the two operating systems, you can easily buy and sell the most beautiful second-hand goods. The mobile boot sale is always open for business, whether you're on the move or at home, and at any time of the day.
And the best news of all about Shpock? It's free! Yes, unlike eBay, there are no listing fees and no transaction fees. You only pay of you want to promote your item more prominently, then you have the option of buying additional premium features. There's a good support system in place too, so it is worth checking it out.
The downside? Adverts. I found they slowed the experience down – but I guess that's how they keep the app free.
Over to you
Have you used Shpock? What do you think? Let us know below or come and join the chat on Facebook 🙂