When you're working in the wholesale sector as I do, you come across a wealth of sunglasses styles, and eventually they all meld into one. Here at Wholesale Clearance UK, we often have many sunglasses styles available at great discounted rates, but we're never quite sure how to describe them.
With that in mind, I decided this was a great opportunity to do a little research and to think about a guide to sunglasses styles. Take a look at these. How many of these sunglasses styles would you wear?
Aviator
First up in our guide to sunglasses styles are Aviators. Aviator sunglasses are one of the most iconic fashion accessories of all time. You recognise them thanks to their oversize teardrop-shaped lenses and accompanying thin metal frame. The Aviator design was first introduced in 1936 by Bausch & Lomb and was issued to U.S. military aviators. They gained some popularity during the 1940s, thanks to US General Douglas MacArthur, but really took off in the 1960s. Many hippies preferred the large metallic sunglasses, so Aviator sunglasses became a part of hippie counterculture. During the 1970s many rock stars sported them, including Paul McCartney and Freddie Mercury, but as disco took root, the popularity of these sunglasses declined.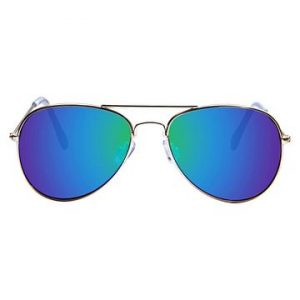 The Aviator style featured prominently in two films in the 1980s, Top Gun and Cobra and the style was back in fashion for a time with Michael Jackson wearing a pair at the 1984 Grammys. The style became popular again in 2000, and has never really fallen from grace. It is a perennial favourite among many celebrities – actors and rock stars. With the large lens shape, it offers a good amount of protection. The frames tend to be slim and lightweight which makes them comfortable. Aviator is a timeless look, it suits most face shapes, and is easy to wear. You can pick up Aviator sunglasses in mirrored, coloured, and wrap-around styles.
Browline
Browline sunglasses are based on the spectacle design of the same name. They typically have hard plastic or horn-rimmed arms and upper portions joined to a wire lower frame and are called browline because the lenses are framed by 'eye brows'. They browline spectacle style was developed during the mid-twentieth century by Shuron Ltd. – and instantly becoming hugely popular among more conservative members of society during the 1950s and 1960s.
The style was adapted for sunglasses in the 1980s. It rapidly became a popular style, but popularity waxed and waned in subsequent decades until the hipster movement brought them back into prominence.
Butterfly
Butterfly sunglasses are increasingly popular thanks to their inherent playfulness. They can be recognised by their distinctive butterfly shape, with a narrowing in the centre of the glasses at the bridge of the nose, but with equal balance at the top and bottom of the lens. They are described as useful for 'softening a strong chin', working well for someone with a long face (recommended for donkeys and horses).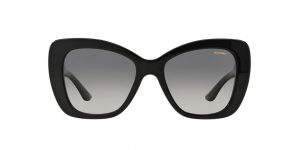 oh the glamour!
Cat eye
Oh, but the esteemed houses of fashion are all over this look at the moment. It's at once totally retro but incredibly now, if you get me. Described as a 'kick of sophistication' these are 'chic sunnies' especially if paired with an all-black ensemble (of clothes, we're not talking Boyz II Men here) and am upswept style (again I assume we're talking about hair, and not the mouse droppings under your stairs).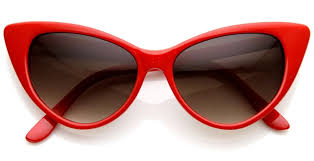 You too can add a feline, feminine appeal to your look. What's new, pussycat?
Clear Frames
I have to admit I looked at these twice. As sunglasses styles go, these are pretty cool. You can find clear framed sunglasses in many classic shapes and styles, or if you prefer some colour, try semi-translucent-coloured frames. They are minimalist, and look up-to-date and fresh.
Clip-on
Clip-on glasses are a form of tinted glasses that can be clipped on to eyeglasses for protection from the strong sunlight. They are ideal for people who already wear prescription spectacles, as they can save money on purchasing prescription sunglasses.

Clip-on sunglasses are straightforward. They are simply placed on top of your spectacles and are held in place by either a clip or magnetic clips. They come in a wide range of colours and styles, and some can even be custom made to your specification.
Clubmaster
Clubmaster sunglasses have only been around since the 1980s, but since then they have been hugely popular. They are a 1950s inspired design, based on the browline style, with rounded lenses and larger upper rims. They are lightweight and designed to be timeless. They are particularly recommended for those with small facial features (mice and other rodents) and are available in both classic and bold colours depending on whether you want to go retro, or modern.

They are currently popular with artists such as
Robert Pattinson, Ed Westwick
, and
Bruno Mars
– retro meets hipster. Apparently.
Flat-Top
Flat top sunglasses are reminiscent of browline glasses but this style features a completely flat brow bar.

Goggle sunglasses
With the rise in popularity of steampunk, it has become increasingly easy to pick up some novel sunglasses styles. One such popular style is the goggle sunglasses, usually designed by using a mix of popular elements (Victoriana, sci-fi, John Lennon look coupled with leather trim for example). Love them!
Mirrored Lenses
Not strictly speaking a type of sunglasses, but mirror lens sunglasses are always hugely popular. They used to just be silver, but now you can buy lenses that are rainbow-coloured, and the colour changes every time you move or someone looks at you from a different angle. They can add a dimension of youthfulness to your look, but mostly will appeal to the young.
Keyhole Nose – see Notch Bridge (below)
Notch Bridge
Also known as Keyhold Nose sunglasses, these were created by Persol in 1957. They became infamous in the late 1960s when Steve McQueen wore them in The Thomas Crown Affair. What makes these sunglasses different? The iconic notch in the bridge of the frames just above the nose. They can also be folded in half for compact storage. They have the overall classic look you expect from the sixties, and they are beginning to catch on again.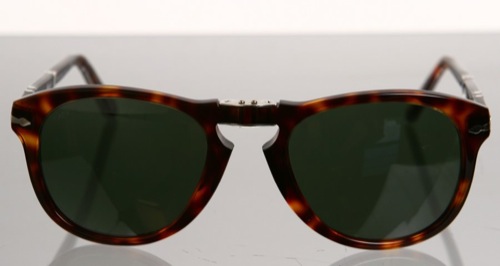 Oval
Oval frames are a classic shape that can work as part of a retro look. They are a great basic, recommended for all face types (hairy, lopsided, downright ugly).

Onassis glasses – see Oversized below
"Jackie O's" – see Oversized below
Oversized
When you see oversized sunglasses you instantly think of Jackie Onassis (or Jackie Kennedy as she was) who often favoured them in the 1960s. These glasses, also known as Jackie O's, or Onassis glasses, looked particularly chic when worn on top of the head. Some wag claims that oversized sunglasses are useful if you want to disguise the fact you have a large nose, and certainly from the 1980s, oversized sunglasses became a humorous fashion accessory (Elton John was particularly fond of them). They have largely fallen out of fashion, although moderately oversized sunglasses still do relatively well among celebrities, and can have brightly coloured frames and lenses.
Fun fact one: the bigger your sunglasses, the more the paparazzi can see you.
Fun fact two: Oversized glasses can take up half of your face but you'll still need a high factor sunblock on the rest of it!
Pillowed Rectangle
One of the weirdest names of sunglasses styles, this style incorporates a rectangular frame shape that is slightly puffed or curved along the edges so that it's not a strict rectangle (see Rectangle Sunglasses below).
Pilot
Remarkably similar to Aviator sunglasses. If you're trying to impress someone, and you want to look like you have a really cool job, you'll need a pair of these. They have a classic teardrop shape (if your teardrops are slightly cock-eyed anyway). Supposedly designed for the cockpit.
Rectangle
Rectangular sunglasses are characterized by frames that are wider than they are tall – a kind of rectangle shape as you would expect. They can be classic and straightforward, or a little more edgy. Some rectangle sunglasses have rounded edges to give a softer look (but then they're not really rectangles, are they?) Rectangle-shaped frames are ideal for people with round or oval faces (perhaps conversely, if you have a rectangular face you should opt for oval sunglasses).
Rimless
For a minimalist look, without all the frame furniture, you can opt for rimless sunglasses. Although I find the appeal of rimless sunglasses rather wanting, others think rimless sunglasses are the height of style and sophistication. I think it's a bit like having a bed without any covers, or a sandwich without any bread.

Round
Round frames, see also teashades, are classic and quirky. The round lenses and frames tend to flatter most face types, with the possible exception of 'big and moonlike'. Once the preserve of John Lennon and his fans, round frames are now popular with the Steampunk and cosplay crowd.

Plenty of stylish folk have worn round glasses over the years, Samuel L Jackson, Steve Jobs, Harry Potter and Where's Wally), but John Lennon is the round sunglasses icon of choice. Can be a fun fashion statement. Especially when you've had a few beers.
Semi-rimless
Semi-rimless sunglasses are those that have some frame. Examples include browline. Great if you prefer a little framing, or you don't have any eyebrows.
Shield
Shield sunglasses are often worn by cyclists and other sportspeople. They have a shield or visor style design, identifiable as a single lens that covers both eyes. They tend to offer maximum sun protection and can look futuristic.
Shutter Shades
Shutter Shades are also known as 'slatted shades' or 'Venetian Blind shades'. They are louvered sunglasses, designed in the 1950s and popular among US teenagers for a time. A modernized version of Shutter Shades became a popular youth fashion trend in the 1980s when they were featured in the music videos for "Glittering Prize" by Simple Minds in 1982 and "Obsession" by Animotion in 1984.

There are often no lenses at all, with the shutters as part of the frame. They come in an assortment of styles and colours, marketed for both men and women. Without lenses, Shutter Shades are not sunglasses per se, but some do have UV resistant lenses. The shutters do not provide protection for the eye from UV light and they do not prevent a light entering the eye.
They have seen a recent resurgence after Alain Mikli made a contemporary custom design for Kanye West, which were featured in the music video for "Stronger."
Venetian Blind shades – see Shutter Shades above
Sports sunglasses
There are sunglasses designed for a number of specific sports, such as cycling etc., and they do make a difference. Sports sunglasses are designed to be safer than regular protective eyewear, because both the lenses and frames are made of special materials that are unlikely to shatter if struck and give dual benefits, protecting against both the sun and any other dangerous elements. Lenses are often designed specifically for the sport. Golf sunglasses tend to have brown lenses to offset the green of a gold course.
Square
For the ultimate non-square accessory, for hipsters everywhere, the square sunglass is a must. Square frames are generally very geometric – but not actually truly square – and come in a range of colours, lenses and styles. The Wayfarer (see below) is a good example of square sunglasses.

Teashades
"Teashades" are instantly recognisable as the type of glasses favoured by John Lennon. They are often known as "John Lennon glasses", "Round Metal", or, occasionally, "Granny Glasses". They are a type of psychedelic art wire-rim sunglasses, often sported during the 1960s for purely reasons. Besides John Lennon, teashades were popular among legends such as Mick Jagger, Roger Daltrey and Jerry Garcia and others, especially those who liked to hide the effects that recreational drug use was having on their eyes.
Other more recent celebrity fans have included Boy George, Liam Gallagher, Suggs, and Ozzy Osbourne. Teashades featured in 1980s classic film, Pretty in Pink and Jodie Foster wore them in Taxi Driver.
The original teashade design incorporated medium-sized, perfectly round lenses which were supported by pads on the bridge of the nose with a thin wire frame. Once they gained in popularity, they were embellished with coloured lenses and mirrored lenses.
Modern versions can be found with plastic lenses and frames, although they are not as popular as they once were, and they are not often referred to by their original name of 'teashades'.
Wayfarer
Quite possibly the most iconic sunglasses style of all time, the Wayfarer is usually a plastic-framed design for sunglasses produced by the Ray-Ban company and introduced in 1952. It has trapezoidal lenses that are slightly narrower at the bottom, and wider at the top, and thought to be inspired by the Browline eyeglasses that were so popular at the time (see above).
Wayfarers have famously been worn by just about everyone, including: Actress Audrey Hepburn (after she wore them in the movie 'Breakfast at Tiffany's' therefore making them a must-have for ladies at lunch), James Dean, Roy Orbison, Elvis Presley, Bob Marley, and The Beatles.
After some time in the wilderness during the early 1970s, Wayfarers made a comeback along with The Blues Brothers and a waves of nostalgia for the 1950s and 1960s. They were the most sold model of sunglasses between 1980 and 1999, after appearing in movies such as The Breakfast Club and Dirty Dancing, and TV shows such as Miami Vice and Moonlighting. The television series, Mad Men, and the growth of Hipster culture has seen a new lease of life for Wayfarer sunglasses. They are favoured by the likes of Billy Joel, Tom Cruise, and Orlando Bloom.
The original frames were black but over the decades, frames in many different colours and patterns have appeared, usually with a silver piece on the corners. They have been described as timeless.
Wooden Frames
For an up-to-the-minute look, and maybe even a greener ethos, you can try out some natural wooden frames. When you consider that every plastic item that has ever been made is still in existence somewhere, then you can see the appeal of wooden frames. What you get is something totally unique, stylish and sustainable. All types of wood, from bamboo to walnut to mahogany to maple are used, so you can find something that really suits you. Innovative!
Wrap-around
Wrap-arounds (also known as Wrap) pretty much do what they say they do. They wraparound your face. They are strongly curved which enables them to do this and offer some degree of comfort to the wearer, and allow good peripheral vision. They often have a single curved semi-circular lens that covers both eyes at the same time, protects the top part of the face they way that protective goggles might. The plastic frame is kept minimal, and there is a single piece of plastic that serves as the nosepiece. Wrap-around sunglasses may have two lenses, but these will always have a strongly curved frame.

These were popularised in the 1960s, originally as variants of Aviator sunglasses. They were used by Yoko Ono and Clint Eastwood in the Dirty Harry films before falling out of fashion. There was a resurgence of the style in the mid-1980s when they were given a more futuristic look.
A word about lenses
Sunglasses styles are one thing, lenses are something else. You should choose the lenses best suited to your needs, assuming you can afford them, and you're not just wearing sunglasses for fashion's sake.
*Blue-blockers block blue light which increases the risk of eye damage from diseases such as macular degeneration.
*Polarized lenses and anti-reflective coating cut reflected glare, useful if you play water and snow sports.
*Mirror-coated lenses limit the amount of light entering your eyes. Good in snowy conditions.
*Gradient lenses are tinted from the top down. The top of the lens is darkest. These lenses are good for driving.
*Double gradient refers to lenses that are tinted from the bottom up: The top and bottom are darkest and the middle has a lighter tint. Good to protect against bright overhead sunlight and light reflecting off sand, water and other reflective surfaces.
*Photochromic lenses adjust their level of darkness based on the amount of UV light they're exposed to.
Did you know: You can donate your old sunglasses to charity to help people in desperate need of eyewear?
Over to you:
Have I missed any sunglasses styles out? Which are your favourite sunglasses styles? Comment below or come and join the conversation on Facebook 🙂