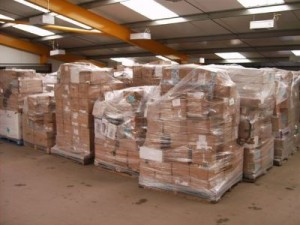 How Buying Liquidated Stock Can Benefit Businesses
Liquidated stock is stock that is offered for sale by a business in trouble that is looking to offload stock in order to liquidate its assets i.e. free up the cash that is tied into stock supplies.
Buying liquidated stock can be a win win situation for not only yours, but many businesses. Here's how:
Benefits to your business
When you choose to stock your retail outlet with liquidated stock from Wholesale Clearance you can expect great quality branded items at the lowest possible price. Liquidated stock is not only limited to clothing but also includes electrical items, gifts, toys, cosmetics and much more.
While you'll benefit from a low cost way to stock your shop with quality items, your customers will benefit from the great discounts that you are able to pass on.
Benefits to the bankrupt business
The bankrupt business benefits from the sale of excess stock as this allows them to free up as much cash as possible, making the liquidisation process easier.
Benefits to businesses 'down the chain'
Cash raised from the sale of stock can be used to pay creditors to the bankrupt business, including suppliers. Therefore many businesses 'down the chain' stand to benefit from the sale of liquidated stock.
It's easy to buy liquidated stock at Wholesale Clearance. We don't impose minimum purchase amounts or charge membership fees, which means that even the smallest retailers – including those selling from car boots, market stalls, on eBay or among friends – can have access to branded stock at low prices.
Wholesale Clearance will also deliver stock direct to your retail outlet, with no trips to out of town warehouses required. What's more, on orders over £500 delivery is free.
Five star reviews on Trustpilot mean that you can purchase liquidated stock from Wholesale Clearance with confidence, benefitting not only your own, but potentially many more businesses down the line.