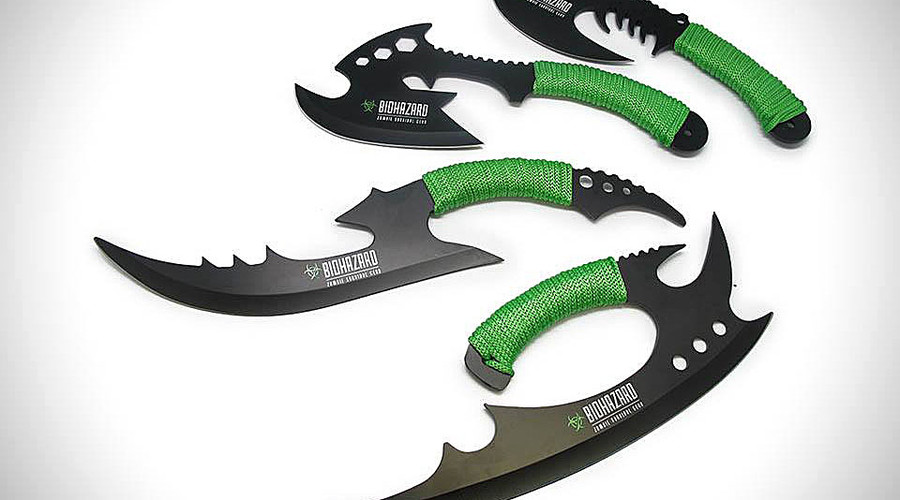 I was casting an eye over things you're not allowed to sell on eBay the other day and found myself wondering what is forbidden generally. What is it illegal to sell in the UK? On looking up the information, I found there really aren't that many prohibitions. Sites like Gumtree and eBay have their rules (and with good reason) but legally you are allowed to sell most things.
However, just for reference here's the things you definitely can't sell anywhere because they are illegal to sell in the UK.
Knives
You can sell some knives of course, otherwise we'd all be eating our fish and chips with a spoon, but according to the government website it is illegal to sell knives to anyone under 18 in the UK. This is with the exception of 16 to 18 year olds in Scotland who can buy cutlery and kitchen knives. The general exception to the rule is a knife with a folding blade less than 3 inches long (7.62cm) such as a Swiss Army penknife.
The ban includes lock knives which are not classed as folding knives as they have blades that can be locked and refolded only when you press a button. They are illegal to carry in public.
Other banned knives it is illegal to sell in the UK include butterfly knives (or 'balisongs') which have a blade hidden inside a handle that splits in the middle, and any knives that are 'disguised' in some way, such as those that look like an everyday object but have a knife inside. The government offers the interested reader a number of inventive examples such as a buckle, phone, brush or lipstick. Intriguing!
Flick knives or 'switchblades' are illegal to sell in the UK, as are gravity knives, stealth knives, zombie knives (the mind boggles but it transpires these are knives with a serrated edge). Swords, including samurai swords with a curved blade over 50cm are also banned, although there are exceptions for antiques and swords made using traditional methods before 1954. Sword-sticks – a hollow walking stick or cane containing a blade – are a no-no too.
Other items that are illegal to sell in the UK include: blowpipes ('blow gun'), telescopic truncheons that extend automatically by pressing button or spring in the handle, and batons – straight, side-handled or friction-lock truncheons.
Then you get into the realms of horror movies. You can't sell hollow kubotans which are a cylinder-shaped keychain holding spikes, or shurikens which are those lethal little stars you see people throw in movies, or kusari-gama – a sickle attached to a rope, cord or wire.
And finally you can't sell good old-fashioned knuckledusters. That's kind of a relief!
Ivory
The trade in ivory is now carefully controlled and thankfully our culture is aware of the horrific abuse elephant populations have endured over the past few centuries. Under current regulations you may only sell ivory if it is antique. What this means is that it must have been worked (or carved) into its current form before 1947.
It is prohibited to sell ivory that remains in an unworked form regardless of its age, so if you have a tusk or a tooth, even if it is mounted, this cannot be sold on. In addition, any antique item that is reworked or fixed after June 1947 is illegal to sell.

UK postage stamps
It is illegal to sell current UK postage stamps at a higher price than the Royal Mail retail price. In the United Kingdom stamps are legal tender, and they therefore have an actual monetary value which means you cannot increase the value of them, much as you wouldn't sell a £5 note £10.
It is different for stamps that are no longer in print, and they may well have a higher value.
Puppies
Well, it's not strictly true that puppies are illegal to sell in the UK, but new legislation means that the sale of puppies under 8 weeks will become illegal, and anyone selling three or more litters a year will have to apply for a formal licence. This is good and sensible and is a way to wage a war on illegal 'backstreet breeders'.

Train, coach and bus tickets
You'll have heard about the kerfuffle about selling on concert tickets, but did you know that it's illegal to resell rail tickets in the UK (including Eurostar Tickets and local travel cards), unless you're an official distributor? If you have tickets that you can't use, you'll need to get in touch with the coach or rail company to find out how to exchange tickets.

Over to you
What have we missed off the list? Or just for fun, what SHOULD it be illegal to sell? Don't be mean, and keep it clean. Post a comment below or come and chat with us on Facebook 🙂