Truck Load of Amscan Party Stock - 29,853 Pcs in Total - £160,000 Retail Value
Part No: SKU39126WC
EAN: 4
Condition: New in Packaging
Brand: Amscan
£12,000.00 £15,000.00
(Inc. VAT: £14,400.00 GBP)
Per item: £0.40
Items in Joblot: 29853
93% offrrp
Markup1,235%
Potential Profit£148,241.11
Truck Load of Amscan Party Stock - 29,853 Pcs in Total - £160,000 Retail Value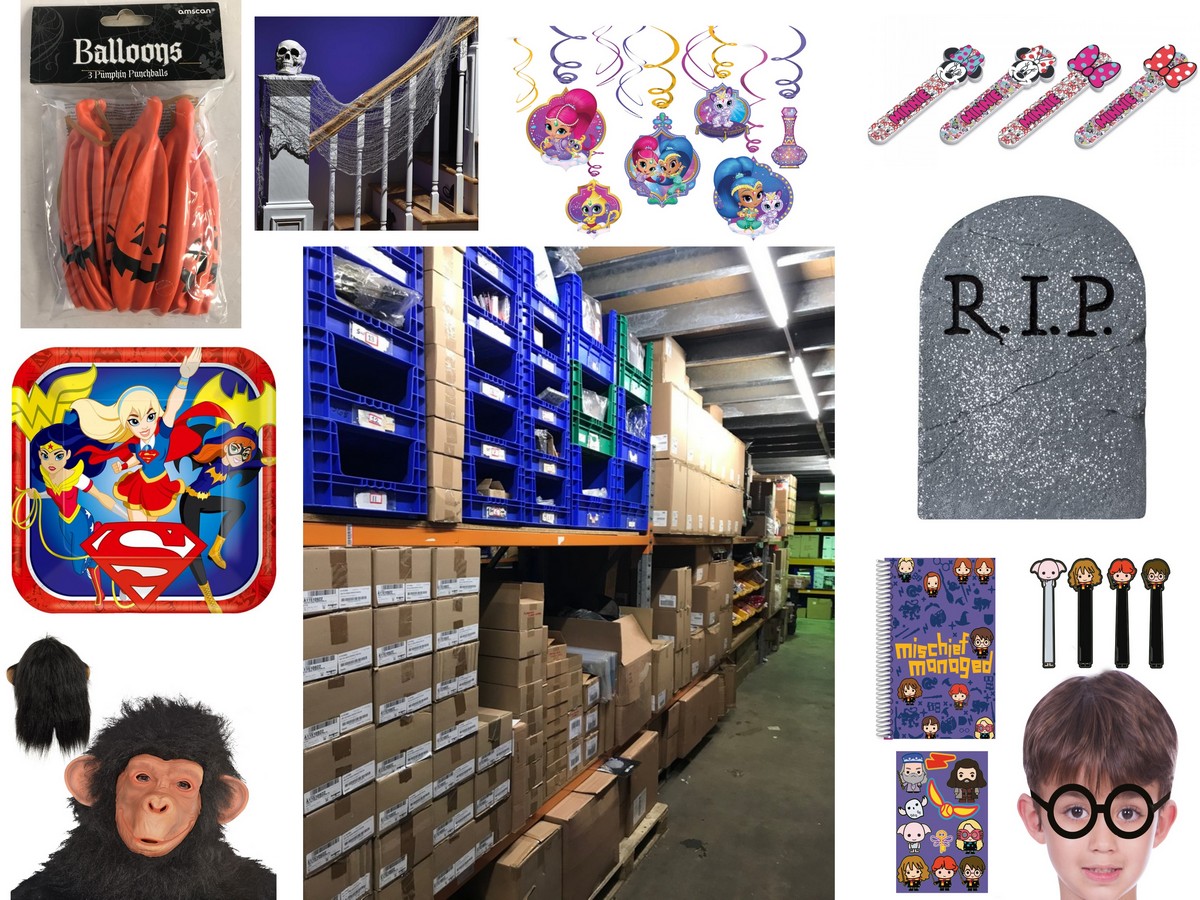 You will receive 29,853 Pcs of Amscan Party Stock - Huge Variety.
RRP: £160,241.11
A large joblot of Amscan party stock. Amscan, Anagram, Sempertex items and more. Balloons, party plates, napkins, costume pieces, Halloween stock, plastic cutlery, and much more.
All items are brand new and in packaging (blue storage crates pictured are not included).
Goods will arrive on 10-12 pallets. Postage price of £500 applies to mainland England addresses, for other areas please contact the office for a quote.
Some examples of items included are pictured below.
A full stock list of items you will receive, with relevant pack sizes and retail values;
| | | | | |
| --- | --- | --- | --- | --- |
| Barcode | Item Description | Quantity | RRP | Total RRP |
| 0013051425708 | Balloons 3 Pumpkin Punchballs | 2304 | £3.99 | £9,192.96 |
| 0021505391004 | Unicorn Pinata | 8 | £14.99 | £119.92 |
| 0809801742689 | Day of the Dead Top Hat Mens | 43 | £5.99 | £257.57 |
| 013051653545 | Bloody Good Time 'HELP' Paper Plates (Pack of 18) | 792 | £7.99 | £6,328.08 |
| 048419734406 | Plastic Heart Shape Bowl 3.19L | 286 | £4.99 | £1,427.14 |
| 0809801759861 | Spartan Shield & Sword Set | 270 | £7.99 | £2,157.30 |
| 7703340131818 | Balloons Metallic Pearl Gold with Stars (25) | 240 | £9.99 | £2,397.60 |
| 7703340851556 | Balloons Pastel Pink 12" (50) | 208 | £9.99 | £2,077.92 |
| 7703340132495 | Balloons Crystal Clear Just Married Hearts 15" (25) | 193 | £9.99 | £1,928.07 |
|   | Balloons Crystal Clear Happy Birthday (25) | 120 | £9.99 | £1,198.80 |
| 7703340412511 | Balloons Crystal Clear Spider 12" (25) | 180 | £9.99 | £1,798.20 |
|   | Balloons Metallic Pearl Chocolate 5" (100) | 200 | £7.99 | £1,598.00 |
| 7703340621876 | Balloons Heart Shape Pastel Blue 6" (100) | 400 | £9.99 | £3,996.00 |
| 7703340129969 | Balloons 40th Anniversary 12" (25) | 180 | £8.99 | £1,618.20 |
| 7703340129075 | Balloons 60th Birthday 12" (25) | 180 | £11.99 | £2,158.20 |
| 013051636463 | DC Super Hero Girls Square Plates (8) | 300 | £3.89 | £1,167.00 |
| 7703340131726 | Balloons Satin/Metallic Pearl Polka Dot (25) | 180 | £10.49 | £1,888.20 |
| 7703340131764 | Balloons Satin/Metallic Pearl Stars (25) | 180 | £10.49 | £1,888.20 |
| 7703340128863 | Balloons Crystal Clear 21st Birthday 12" (25) | 180 | £10.99 | £1,978.20 |
| 7703340129402 | Balloons Happy Birthday Polka Dot 12" (25) | 60 | £10.99 | £659.40 |
| 35015327099657 | Party Bag Fillers, Clear Spinning Top | 12 |   | £0.00 |
| 7703340129211 | Balloons Satin/Metallic Pearl 70th Birthday 12" (25) | 51 | £9.99 | £509.49 |
| 7703340128276 | Balloons Fashion Solid Polka Hearts 12" (25) | 31 | £10.99 | £340.69 |
| 7703340129013 | Balloons Satin/Metallic 50th Birthday 12" (25) | 56 | £9.99 | £559.44 |
| 7703340132655 | Balloons Crystal Clear Just Married 36" (2) | 191 | £8.99 | £1,717.09 |
| 026635323147 | Balloon Finding Dory 15" | 100 | £3.99 | £399.00 |
| 026635341585 | Balloon SuperShape Emoticons 36" | 195 | £4.99 | £973.05 |
| 026635363815 | Balloon Hugs & Kittens | 195 | £2.99 | £583.05 |
| 026635332132 | Disney Princess Rapunzel Foil Balloon 17" | 100 | £2.99 | £299.00 |
| 0809801767514 | Headband Mad Hatter Alice in Wonderland | 576 | £8.49 | £4,890.24 |
| 0809801742788 | Tailcoat Day of the Dead GB Size Standard Adult | 138 | £19.99 | £2,758.62 |
| 048419630463 | 2-Ply Pastel Blue Napkins (50) | 168 | £3.99 | £670.32 |
| 013051753931 | Party Favors Mega Value Pack Halloween 100pcs | 12 | £14.99 | £179.88 |
| 013051564896 | Party Hats, Cone 4 Colours (12) | 54 | £3.99 | £215.46 |
| 0809801739351 | Spider Web Feather Mask | 276 | £4.99 | £1,377.24 |
| 0013051425715 | Balloons Spider Modelling Kit | 288 | £3.99 | £1,149.12 |
| 013051658137 | Creepy Cloth | 1152 | £2.99 | £3,444.48 |
| 013051433567 | Dinner Napkins Gold (20) | 276 | £2.19 | £604.44 |
| 048419891017 | Plastic Plate Gold (50) | 26 | £14.99 | £389.74 |
| 048419943525 | Plastic Plate New Purple (50) | 6 | £9.99 | £59.94 |
| 012795013059 | Plastic Divider Plate Frosty White (20) | 10 | £10.99 | £109.90 |
| 012795012359 | 12 oz Plastic Cup Green (20) | 50 | £5.50 | £275.00 |
| 048419481690 | Dinner Napkins Festive Green (50) | 48 | £3.99 | £191.52 |
| 048419661771 | Plastic Spoons New Pink (48) | 36 | £6.99 | £251.64 |
| 0809801729642 | Bloody Cleaver | 144 | £3.99 | £574.56 |
| 048419763246 | Luncheon Napkins Yellow Sunshine (125) | 24 | £8.99 | £215.76 |
| 012795160203 | Plastic Bowl Clear (20) | 48 | £4.99 | £239.52 |
| 012795107666 | 7" Plastic Plate, Vanilla Crème (20) | 20 | £4.99 | £99.80 |
| 0809801781800 | Dark Robot Hooded Mask | 76 | £8.99 | £683.24 |
| 0809801750066 | Sequin Horns Headband | 288 | £2.99 | £861.12 |
| 013051659967 | Square Plates, Shimmer & Shine (8) | 78 | £2.99 | £233.22 |
| 0013051800710 | Cookie Cutters, Football Shirt | 110 | £1.29 | £141.90 |
| 013051441678 | Rainbow Bandana | 226 | £4.99 | £1,127.74 |
| 013051728434 | Confetti, 80th Birthday 34g | 276 | £2.99 | £825.24 |
| 013051635732 | Napkins, DC Super Hero Girls (16) | 522 | £2.99 | £1,560.78 |
| 013051643744 | Disney Princess Swirl Decorations (12 Piece) | 96 | £4.49 | £431.04 |
| 026635399289 | Decorative Balloon Mint Green (4) | 48 | £3.99 | £191.52 |
| 026635397117 | Decorative Balloon Awesome | 48 | £1.99 | £95.52 |
| 0809801777056 | Bloody Surgeon Mask | 492 | £1.99 | £979.08 |
| 766416098627 | Snazaroo Spirit Gum 10ml (5) | 54 | £5.99 | £323.46 |
|   | Balloon Crystal Clear Orange (10) | 22 |   | £0.00 |
| 0192937061220 | Enchantimals Letter Banner, Happy Birthday | 2112 | £3.49 | £7,370.88 |
| 0013051581237 | Cake Stand 9.75" | 120 | £7.99 | £958.80 |
| 013051606602 | Blaze and the Monster Machines 9" Square Plate (8) | 1800 | £2.89 | £5,202.00 |
| 0013051728489 | Table Centre Piece 90th Celebration | 864 | £3.99 | £3,447.36 |
| 026635373241 | Mr Incredibles Airwalkers Balloon 67" | 150 | £21.99 | £3,298.50 |
| 4009775440543 | Plastic Knives Silver (10) | 288 | £1.49 | £429.12 |
| 013051835828 | Halloween Whoopee Cushions Toxic Waste (12) | 738 | £6.99 | £5,158.62 |
| 013051606626 | Blaze and the Monster Machines Cups (8) | 738 | £2.69 | £1,985.22 |
| 026635346474 | The Lion Guard Balloon Banquet (5) | 48 | £12.99 | £623.52 |
| 0192937078778 | Harry Potter Favor Pack (16) | 1296 | £6.99 | £9,059.04 |
| 048419661740 | Plastic Spoons Extra Heavy Weight (48) | 72 | £6.99 | £503.28 |
| 013051398248 | Rectangular Mini Plates Serving Trays (10) | 96 | £6.99 | £671.04 |
|   | Jet Black Plastic Divider Plates (20) | 20 | £10.99 | £219.80 |
| 013051514242 | Favor Boxes 1st Birthday (5) | 144 | £4.49 | £646.56 |
| 013051640958 | Disney Ariel Mini Balloon Weight  | 72 | £3.99 | £287.28 |
| 048419137511 | Beverage Napkins Purple 3-Ply (20) | 96 | £2.19 | £210.24 |
| 048419889304 | Big Party Pack of Cups Yellow (50) | 160 | £8.99 | £1,438.40 |
| 013051660154 | Shimmer & Shine Swirl Decorations (12) | 2472 | £4.49 | £11,099.28 |
| 013051850265 | Scene Settings with Props Giant Set | 25 | £7.99 | £199.75 |
| 0013051827663 | Pastel Blue Plastic Spoon (10) | 252 | £1.99 | £501.48 |
| 013051273378 | Polka Dot Balloon Loose in Box | 400 | £1.49 | £596.00 |
| 0809801791304 | Wonderland Long Sleeve Top Ladies (L) | 46 | £11.99 | £551.54 |
| 5014568229372 | Frothy Tutu Skirt M/L | 21 | £25.99 | £545.79 |
| 013051850104 | Wild Child Birthday Candle | 36 | £6.99 | £251.64 |
| 013051782603 | Table Runner Western (4) | 4 | £9.99 | £39.96 |
| 013051610746 | Giant Happy Birthday Banner Roll 40ft Long | 8 | £14.99 | £119.92 |
| 013051877224 | Heart Shape Chalkboard | 24 | £7.99 | £191.76 |
| 013051784614 | Paper Belts Western (8) | 27 | £6.99 | £188.73 |
| 013051557973 | Confetti Value Pack, Baby Shower Boy 34g | 36 | £2.99 | £107.64 |
| 013051787929 | Irish Tassel Garland 8ft | 18 | £6.99 | £125.82 |
| 013051571212 | Pail Quart Holly (12) | 21 | £11.99 | £251.79 |
| 013051813536 | Mini Pineapple Pinata | 24 | £3.99 | £95.76 |
| 013051563547 | Customizable Giant Sign Banner 65" x 20" | 24 | £11.99 | £287.76 |
| 013051608095 | Tinsel 3D Leprechaun | 24 | £3.99 | £95.76 |
| 013051844776 | Napkins Boho Birthday Girl Young Wild and Three (16) | 132 | £2.99 | £394.68 |
| 048419589624 | Cascade Centerpiece Football | 49 | £4.99 | £244.51 |
| 0809801806947 | Chimp Full Head Mask | 360 | £13.99 | £5,036.40 |
| 021505335367 | Pinata Pull, Pink One Design | 16 | £14.99 | £239.84 |
| 049419769071 | R.I.P Handcrafted Cemetery Tombstone | 261 | £6.99 | £1,824.39 |
| 013051434243 | Disco Glasses (10) | 6 | £10.99 | £65.94 |
| 013051683924 | Foil Dot Design Lanterns (5) | 114 | £7.99 | £910.86 |
| 0809801781985 | Witch Doctor Dress Adults Size Medium | 16 | £18.99 | £303.84 |
| 0809801758864 | Grease Cropped Leather Jacket Adults Size Standard | 14 | £22.99 | £321.86 |
| 0809801791557 | Witch Doctor Waist Clincher (Adults M) | 12 | £13.99 | £167.88 |
| 0809801747264 | Clown Party Suit Age 10/12 Years | 8 | £19.99 | £159.92 |
| 0809801747240 | Clown Party Suit Age 12/14 Years | 10 | £19.99 | £199.90 |
| 0809801734394 | Drop Dead Gorgeous Costume Size 10/12, Adult M | 8 | £22.99 | £183.92 |
|   | Party Bag Fillers YoYo | 3 |   | £0.00 |
|   | Party Bag Fillers Mini Hand Clappers | 7 |   | £0.00 |
| 0013051728557 | Bunting 100th Birthday | 288 | £4.99 | £1,437.12 |
| 013051539573 | Love Cake Topper | 90 | £6.99 | £629.10 |
| 013051838652 | Pizza Party Paper Plates (8) | 84 | £3.99 | £335.16 |
| 013051838171 | Pizza Party Beverage Napkins (16) | 72 | £3.99 | £287.28 |
| 0013051635015 | Confetti 18th Pink (12) | 30 | £2.99 | £89.70 |
| 026635406666 | Sloth Decorative Balloon Bouquet (5) | 42 | £12.99 | £545.58 |
| 013051612627 | Baby Stats Game | 96 | £6.99 | £671.04 |
| 0192937007518 | Rusty Rivets Plates (8) | 42 | £3.49 | £146.58 |
| 048419625490 | Royal Blue Plastic Knives (20) | 96 | £2.99 | £287.04 |
| 013051711276 | A Day in Paris Photo Props, 13 pcs | 48 | £6.99 | £335.52 |
| 0484129359463 | Camouflage Paper Plates (8) | 48 | £2.89 | £138.72 |
| 048419530893 | New Purple Party Cups (20) | 42 | £4.99 | £209.58 |
| 013051728571 | Letter Banner 100th Birthday | 108 | £3.99 | £430.92 |
| 013051523930 | Doilies in 4 Sizes (40) | 94 | £4.99 | £469.06 |
| 0809801704304 | Western Bandana, Pink | 63 | £2.59 | £163.17 |
| 0013051691301 | Lipstick, Black | 48 | £2.49 | £119.52 |
| 048419583516 | Key to Your Heart Table Cover | 48 | £5.99 | £287.52 |
| 0192937061206 | Enchantimals Table Cover | 54 | £6.99 | £377.46 |
| 048419628224 | Sunshine Yellow Party Favor Treat Bags (25) | 96 | £4.99 | £479.04 |
| 0013051827632 | Pink Plastic Spoon (10) | 72 | £2.99 | £215.28 |
| 0013051877491 | Nella the Princess Knight Plates (8) | 42 | £3.99 | £167.58 |
| 013051539658 | Heart Cake Picks (12) | 24 | £6.99 | £167.76 |
| 0809801790017 | Bloody Dress, Adults Size Medium | 27 | £9.99 | £269.73 |
| 0809801765237 | Horror T-Shirts, Adults Size XL | 27 | £14.39 | £388.53 |
| 0809801709316 | Pirate Jackets, Womans Size Medium | 24 | £16.99 | £407.76 |
| 0013051744205 | Engagement Pennant Banner | 42 | £3.99 | £167.58 |
| 013051785437 | Hollywood Table Decorating Kit (23 pcs) | 54 | £9.99 | £539.46 |
| 0013051832629 | Disney Minnie Mouse Shaped Emery Boards (4) | 240 | £5.99 | £1,437.60 |
| 192937011379 | Lego Movie 2 Party Cups (12) | 6 | £3.49 | £20.94 |
| 013051694838 | Emoji Hot/Cold Party Cups (8) | 96 | £2.69 | £258.24 |
| 013051787882 | St. Patricks Pennant Banner 10ft (3) | 8 | £6.99 | £55.92 |
| 026635256421 | Happy Halloween Foil Balloon | 195 | £2.99 | £583.05 |
| 026635253635 | Halloween Foil Balloon | 460 | £2.99 | £1,375.40 |
| 026635366922 | Air-filled Decoration Hello Balloon | 135 | £5.99 | £808.65 |
| 0809801700252 | Princess Tiara | 72 | £5.99 | £431.28 |
| 013051500733 | Purple Confetti Mr & Mrs 34g | 48 | £2.99 | £143.52 |
|   | Blue Confetti 34g | 36 | £2.99 | £107.64 |
| 0809801708272 | Deadly Beauty Wig | 12 | £17.99 | £215.88 |
| 0809801777858 | Princess Zombie Tiara | 24 | £6.99 | £167.76 |
| 013051706579 | Hanging Honeycomb Shamrock Decoration over 13" | 54 | £5.99 | £323.46 |
| 013051666958 | Green Football Embroidered Sweatbands (2) | 72 | £3.99 | £287.28 |
|   | Plastic Plates, Blue (10) | 29 | £2.29 | £66.41 |
| 0809801715591 | Spider Web Arm Warmers | 128 | £6.99 | £894.72 |
| 026635220002 | Get Well Soon Foil Balloons | 17 | £4.99 | £84.83 |
| 0013051330163 | GB Union Jack Ceiling Decorations 10ft Long | 5 | £6.99 | £34.95 |
|   |   |   |   |   |
|   |   | 29853 |   | £160,241.11 |