Pallet of 7000+ Pieces of Elements Jewellery - Necklaces, Bracelets & Earrings
Part No: SKU32092WC
EAN: 5053966277400
Condition: New
Brand: Elements
£2,500.00
(Inc. VAT: £3,000.00 GBP)
Per item: £0.36
Items in Joblot: 7000
95% offrrp
Markup1,900%
Potential Profit£47,500.00
Pallet of 7000+ Pieces of Elements Jewellery - Necklaces, Bracelets & Earrings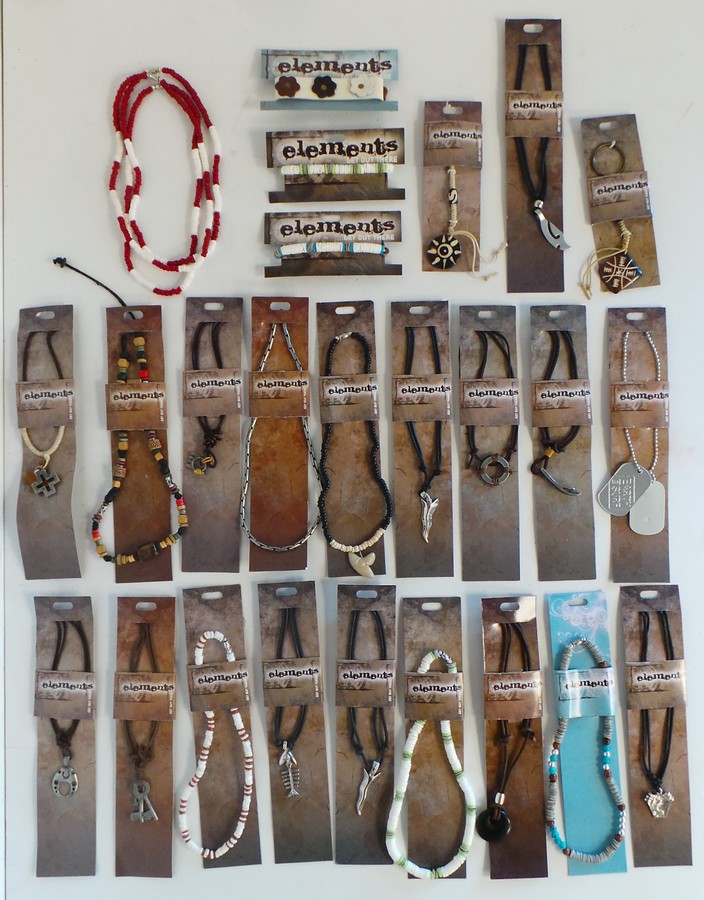 You will receive 7000+ Pieces of Elements Jewellery - Necklaces, Bracelets & Earrings.
RRP: £3.99 - £9.99
One pallet of assorted Elements jewellery. Necklaces, bracelets and earrings in a good variety of designs are included.
Each piece comes in excellent packaging on an Elements display card. All in cartons containing a product code.
The pictures below are to give you an example of types of designs that are included. Other styles will also be within the lot.
A stock list of goods that are included with retail values;
| | | | | |
| --- | --- | --- | --- | --- |
| ELM033 | BRACELET |  £3.99 | 297 |  £1,185.03 |
| ELM036 | Bracelet - White Clam with Grey/Turq Shell |  £3.99 | 300 |  £1,197.00 |
| ELM039 | Bracelet - White Clam with Green/Grey Shell |  £3.99 | 400 |  £1,596.00 |
| ELM041 | NECKLACE |  £5.99 | 297 |  £1,779.03 |
| ELM058 | Cuff - Wide Leather with Studs |  £9.99 | 299 |  £2,987.01 |
| ELM065 | Pendant - Fish Cut Out Dog Tag Metal/Leather |  £7.99 | 39 |  £311.61 |
| ELM067 | Pendant - Metal Bottle Opener on Leather Thong |  £7.99 | 300 |  £2,397.00 |
| ELM068 | Pendant - Metal Oogiwidge on Leather Thong |  £7.99 | 300 |  £2,397.00 |
| ELM069 | Pendant - Metal Ring on Leather Thong |  £7.99 | 39 |  £311.61 |
| ELM070 | Pendant - Metal Nancer on Leather Thong |  £7.99 | 300 |  £2,397.00 |
| ELM072 | Pendant - Metal & Leather Square Cross on Leather Thong |  £7.99 | 299 |  £2,389.01 |
| ELM073 | Pendant - Metal Flat Maori Fish Hook |  £7.99 | 400 |  £3,196.00 |
| ELM074 | Pendant - Surf Board Cut Out on Leather Thong |  £7.99 | 400 |  £3,196.00 |
| ELM075 | Pendant - Metal Dog Tags on Bead Chain |  £7.99 | 196 |  £1,566.04 |
| ELM081 | Necklace - Chain |  £7.99 | 439 |  £3,507.61 |
| ELM083 | Pendant - Metal Arrow Squiggle on Leather Thong |  £7.99 | 200 |  £1,598.00 |
| ELM084 | Pendant - Metal Dragon on Leather Thong |  £7.99 | 300 |  £2,397.00 |
| ELM086 | Neckalce - Shark's Tooth on Coco Beads |  £5.99 | 300 |  £1,797.00 |
| ELM090 | Neckalce - Metal/Black Wooden Bead 1 |  £7.99 | 199 |  £1,590.01 |
| ELM099 | Keyring - Square with Inlay |  £3.99 | 300 |  £1,197.00 |
| ELW067 | Cuff - Leather White with Flowers |  £7.99 | 299 |  £2,389.01 |
| ELW069 | Necklace - Clam Shell Grey with Turq/Silver/Brown Bead |  £7.99 | 97 |  £775.03 |
| ELW072 | Pendant - Metal & Wood Sprial |  £7.99 | 300 |  £2,397.00 |
| ELW075 | Necklace - Multi Shell |  £7.99 | 196 |  £1,566.04 |
| ELW077 | EARRINGS |  £5.99 | 300 |  £1,797.00 |
| ELW092 | Cuff - Leather with Blue Thread |  £7.99 | 115 |  £918.85 |
| ELW098 | Necklace - Coco Bead/Monggo Shell Green 3 Strand |  £3.99 | 300 |  £1,197.00 |
|   |   |   |  7,211 |  £50,031.89 |