Pallet of 5162 Official Elvis Stock - Calendars, Magazines, Figurines P1
Part No: SKU36929WC
EAN: 5053966016443
Condition: New
Brand: Elvisly Yours
£1,431.70 £1,789.62
(Inc. VAT: £1,718.04 GBP)
Per item: £0.28
Items in Joblot: 5162
84% offrrp
Markup525%
Potential Profit£7,516.44
Please Note: Wholesale Clearance UK Ltd do not own this stock, we are acting as the broker. Please click here for full details
Please Note: free delivery is not applicable on this product. Delivery times are estimated at 3 to 10 working days.
Pallet of 5162 Official Elvis Stock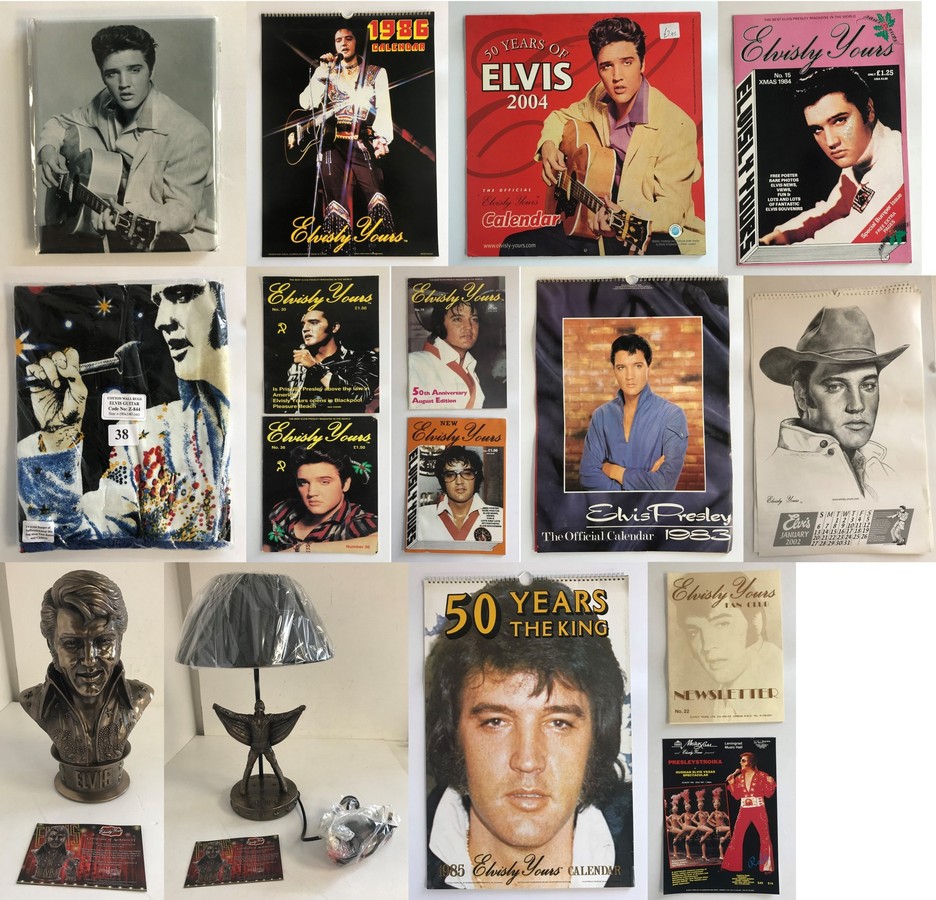 You will receive 5162 Official Elvis Stock - Calendars, Magazines, Figurines, Magnets & More.
RRP: £1 - £99.99
A mixed pallet of Elvis Presley stock/memorabilia that includes a good variety.
All stock has been taken directly from Elvisly Yours, a company who own the rights to produce official Elvis Presley merchandise.
Elvis - 'The King of Rock' still has a huge following all over the world, so memorabilia will be highly sought after.
Items include; magazines, calendars, fridge magnets, tapestries, bust figurines, lamps and more.
All items are brand new - vintage condition.
Please note - Elvis credit card application forms as listed below are expired therefore we have listed their retail value as £0
A full stock list of items you will receive;
| | | | |
| --- | --- | --- | --- |
| Item Description | Quantity | RRP | Total RRP |
| Tapestry No. 38 | 9 | £6.00 | £54.00 |
| Tapestry No. 39 | 1 | £6.00 | £6.00 |
| Tapestry No. 41 | 38 | £6.00 | £228.00 |
| Tapestry No. 36 | 5 | £6.00 | £30.00 |
| Tapestry Other | 4 | £6.00 | £24.00 |
| Duvet Cover | 2 | £18.00 | £36.00 |
| Elvis Bust Figurine | 6 | £99.99 | £599.94 |
| Union Jack | 5 | £10.00 | £50.00 |
| Confederate Flag | 1 | £10.00 | £10.00 |
| 50 Years of Elvis 2004 Calendar | 30 | £3.00 | £90.00 |
| Elvisly Yours Magazine No 5 | 4 | £2.10 | £8.40 |
| Elvisly Yours Magazine No 6 | 2 | £2.10 | £4.20 |
| Elvisly Yours Magazine No 19 | 2 | £2.10 | £4.20 |
| Elvisly Yours Magazine No 23 | 6 | £2.10 | £12.60 |
| Elvisly Yours Magazine No 35 | 3 | £2.10 | £6.30 |
| Elvisly Yours Magazine No 36 | 1 | £2.10 | £2.10 |
| Elvisly Yours Magazine No 38 | 3 | £2.10 | £6.30 |
| Elvisly Yours Magazine No 42 | 1 | £2.10 | £2.10 |
| Endlessly Elvis Issue #01 Aug/Sept 2002 | 2 | £2.10 | £4.20 |
| Calendars 1980/83/84/86/88/91/92 | 94 | £3.00 | £282.00 |
| Calendar Pages Black/White Sketches | 1030 | £2.00 | £2,060.00 |
| Elvisly Yours Fan Club Newsletter No 23 | 40 | £1.00 | £40.00 |
| Calendars 1980/84/87/88/90/2005 | 121 | £3.00 | £363.00 |
| Calendar 1992 | 140 | £3.00 | £420.00 |
| Calendars Square 2004/5/7/8/9 | 111 | £3.00 | £333.00 |
| Elvisly Yours Mags Various Editions | 279 | £2.10 | £585.90 |
| Elvis-on The Scene For 20 Years Issue 21 | 9 | £2.10 | £18.90 |
| Elvis-on Sold Out | 8 | £2.00 | £16.00 |
| Elvis Photo Album 1956-1957 | 8 | £2.00 | £16.00 |
| Elvis Mania | 1 | £1.00 | £1.00 |
| Singing & Rocking Elvis | 1 | £55.00 | £55.00 |
| Farewell to Elvis No. 1 | 34 | £1.00 | £34.00 |
| Calendars 1980/81/82/86 | 142 | £3.00 | £426.00 |
| Calendar 1981 | 88 | £3.00 | £264.00 |
| Elvisly Yours Magazines 6, 7, 8, 10, 27 | 102 | £2.10 | £214.20 |
| The King of Card Application Forms (Expired) | 208 | £0.00 | £0.00 |
| Elvis Fridge Magnets | 518 | £1.25 | £647.50 |
| Elvisly Yours Fan Club Newsletter No 22 | 264 | £1.00 | £264.00 |
| Presleystroika Leaflets | 150 | £1.00 | £150.00 |
| Calendars 1980/83/86 | 128 | £3.00 | £384.00 |
| Calendars 1980/82/83/90 | 101 | £3.00 | £303.00 |
| Calendars 1984/88/89/91 | 102 | £3.00 | £306.00 |
| Pages Bow Pic | 100 | £1.00 | £100.00 |
| Round Pic | 200 | £1.00 | £200.00 |
| Elvis in Canada Magazine | 53 | £2.10 | £111.30 |
| Elvis Credit Card App (Expired) | 1000 | £0.00 | £0.00 |
| Elvis Lamp | 5 | £35.00 | £175.00 |
|   |   |   |   |
|   | 5162 |   | £8,948.14 |