Pallet of 14,961 Official Elvis Stock - Magazines/Calendars/Books & More P2
Part No: SKU37196WC
EAN: 5053966019581
Condition: New
Brand: Elvisly Yours
£3,258.18 £4,072.72
(Inc. VAT: £3,909.81 GBP)
Per item: £0.22
Items in Joblot: 14961
84% offrrp
Markup525%
Potential Profit£17,105.44
Please Note: Wholesale Clearance UK Ltd do not own this stock, we are acting as the broker. Please click here for full details
Please Note: free delivery is not applicable on this product. Delivery times are estimated at 3 to 10 working days.
Pallet of 14,961 Official Elvis Stock - Magazines/Calendars/Books & More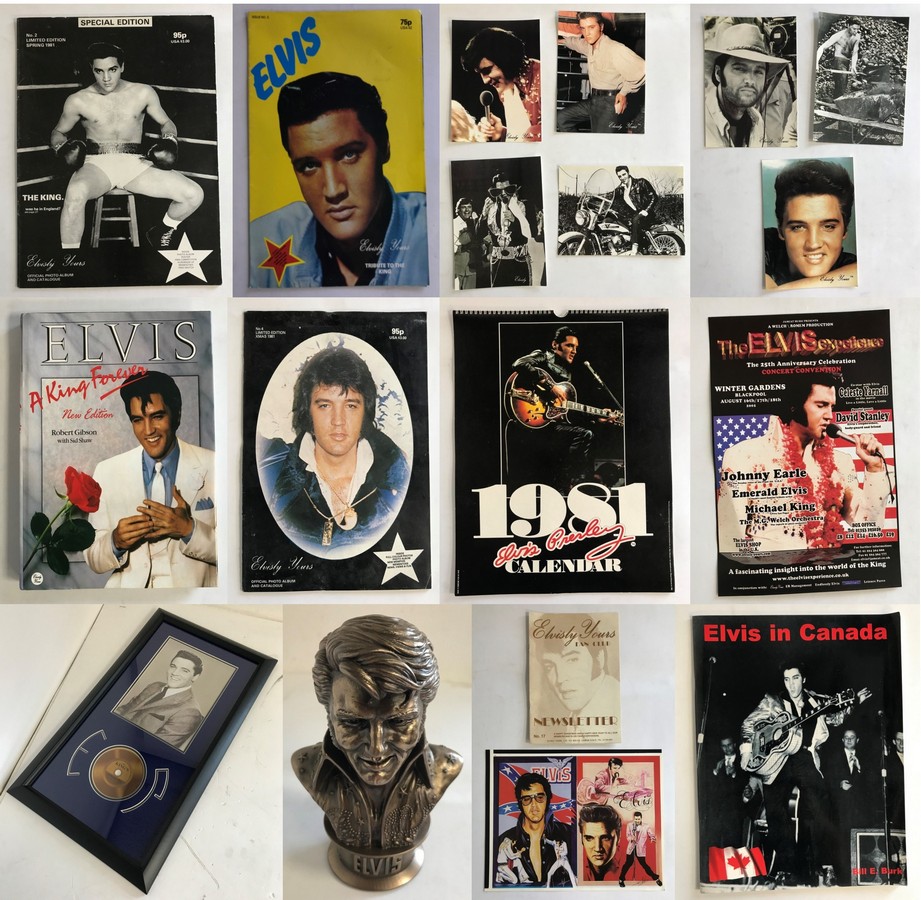 You will receive 14,961 Official Elvis Stock.
RRP: £0.50 - £200
A mixed pallet of Elvis Presley stock/memorabilia that includes a good variety.
All stock has been taken directly from Elvisly Yours, a company who own the rights to produce official Elvis Presley merchandise.
Elvis - 'The King of Rock' still has a huge following all over the world, so memorabilia will be highly sought after.
Items include; magazines, calendars, newsletters, authentic hair photo frames, postcards, bust figurines, lamps and more!
All items are brand new - vintage condition.
Please note - Elvis credit card application forms as listed below are expired therefore we have listed their retail value as £0
A full stock list of items you will receive;
| | | | |
| --- | --- | --- | --- |
| Item Description | Quantity | RRP | Total RRP |
| Calendars 1980/84/85/86/91/2003 | 119 | £3.00 | £357.00 |
| Elvisly Yours Fan Club Newsletter Nos 17/18/20 | 501 | £1.00 | £501.00 |
| Elvisly Yours Fan Club Newsletter Nos 1-10/12-15/21-26 | 138 | £1.00 | £138.00 |
| Elvis Flyers | 24 | £0.50 | £12.00 |
| Vote Elvisly Yours Flyers  | 1008 | £0.50 | £504.00 |
| Elvisly Yours Catologues (2005) | 590 | £4.00 | £2,360.00 |
| Elvisly Yours Magazines No 19/30/31/35/41 | 20 | £2.10 | £42.00 |
| Calendars 2000 | 50 | £3.00 | £150.00 |
| Elvisly Yours Mag No 26 | 120 | £2.10 | £252.00 |
| Double Picture | 800 | £0.80 | £640.00 |
| Single Picture | 965 | £0.80 | £772.00 |
| Credit Card Application | 67 | £0.00 | £0.00 |
| Hardback Book Elvis A King Forever | 38 | £19.00 | £722.00 |
| Elvisly Yours Magazine No 18 | 72 | £2.10 | £151.20 |
| Elvisly Yours Magazine No 37 | 50 | £2.10 | £105.00 |
| Calendar 1981 | 100 | £3.00 | £300.00 |
| Elvis in Canada Magazine | 104 | £2.10 | £218.40 |
| Calendar 2000 | 150 | £3.00 | £450.00 |
| Elvisly Yours Fan Club Newsletter No 21 | 376 | £1.00 | £376.00 |
| Endlessly Elvis 25th Anniversary Special Ed Issue 01 | 39 | £1.00 | £39.00 |
| Life With Elvis (Paperback) | 92 | £5.80 | £533.60 |
| Black & White Picture from Calendars | 160 | £2.00 | £320.00 |
| Elvisly Yours Black & White Calendars 2002 25th Anniversary | 97 | £3.00 | £291.00 |
| Elvisly Yours Tribute to the King No.3 Mag | 43 | £2.10 | £90.30 |
| Candidly Elvis Tribute Mag | 25 | £2.10 | £52.50 |
| Elvisly Yours Mag No.11 | 76 | £2.10 | £159.60 |
| Elvisly Yours Magazines No 36/37/39/2/24/29/23/1/25/40/27/6/13/33 | 108 | £2.10 | £226.80 |
| Elvisly Yours Magazines No 41/1/30/2/7/29 | 98 | £2.10 | £205.80 |
| Elvisly Yours Magazines No 7/8 | 77 | £2.10 | £161.70 |
| Elvisly Yours Magazines Limited Edition 1981 No.4 | 15 | £2.10 | £31.50 |
| Elvisly Yours Magazines No.6 | 16 | £2.10 | £33.60 |
| First Day Issue Stamps Various | 154 | £0.50 | £77.00 |
| Elvisly Yours Magazines No 21/39/16/26 | 115 | £2.10 | £241.50 |
| Elvisly Yours Newsletter No.24 | 301 | £1.00 | £301.00 |
| Elvisly Yours Newsletter No.11/23 | 323 | £1.00 | £323.00 |
| Elvisly Yours Magazines No. 26/15/41/17 | 108 | £2.10 | £226.80 |
| Elvisly Yours Postcards Various | 2904 | £0.40 | £1,161.60 |
| Elvisly Yours Magazines No 11/40/36/42 | 32 | £2.10 | £67.20 |
| Elvisly Yours Magazines No 13/15/33 | 23 | £2.10 | £48.30 |
| Elvisly Yours Tribute to the King Issue 5/3/2/4/6 | 112 | £2.10 | £235.20 |
| Yesterday Once More Flyers | 112 | £0.50 | £56.00 |
| Elvisly Yours Magazines No 36/9 | 101 | £2.10 | £212.10 |
| Elvis Bust 18cm | 8 | £99.99 | £799.92 |
| Frame Picture The King Authentic Hair | 20 | £200.00 | £4,000.00 |
| Elvis Lamp | 2 | £35.00 | £70.00 |
| First Day Cover Stamps P8/P6/P5/P4 | 2761 | £0.50 | £1,380.50 |
| Elvis Gift Boxes | 68 | £1.00 | £68.00 |
| Large Post Cards | 1200 | £0.50 | £600.00 |
| The Elvis Experience Winter Gardens Blackpool 2002 Flyers | 238 | £0.50 | £119.00 |
| St. Vincent Commerative Stamp Flyers | 80 | £0.50 | £40.00 |
| Photo Display Cover 305mm x 305mm | 141 | £0.80 | £112.80 |
| Photo Display Cover 205mm x 253mm Portrate | 11 | £0.80 | £8.80 |
| Elvisly Yours Magazines | 9 | £2.10 | £18.90 |
|   |   |   |   |
|   | 14961 |   | £20,363.62 |