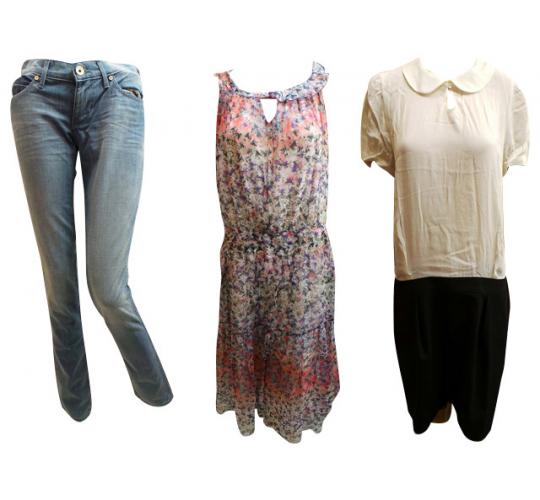 One Off Joblot of 71 Mixed Ladies Branded Items Trousers Tops & Underwear Etc
Part No: SKU16571WC
EAN: 5053966230474
Condition: New
£715.18
(Inc. VAT: £858.22)
Per item: £10.07
Items in Joblot: 71
80% offrrp
Markup400%
Potential Profit£2,860.75
One Off Joblot of 71 Mixed Ladies Branded Items Trousers Tops & Underwear Etc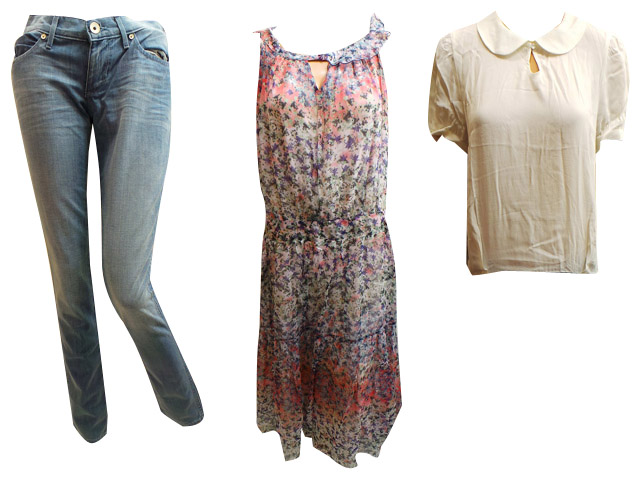 You will receive 71 ladies mixed branded items.
Includes: Trousers, jeans, jumpers, dresses, tops, underwear, bikinis, sunglasses
RRP: £6.99-£230
Ladies mixed branded items that includes a huge range of different items from a variety of top womens brands. There are all sorts of different items such as skinny jeans, smart trousers, summer dresses, bikinis, underwear and many more which shows the great variety that is included in this mixture. All items are top quality and there are some big branded names. These include; Kookai, G-Star, NYDJ, Henri Lloyd, Wrangler, Puma and more. A full stock list of the items that you will receive with their retail price is shown below.
Barcode Description QNT RRP

B0061PXM6W G-Star Arctic 3D Coj Super Skinny Women's Jeans Paccio W30INxL34IN 1 £89.00

B0061PXM08 G-Star Arctic 3D Coj Super Skinny Women's Jeans Paccio W31INxL30IN 1 £89.00

B00GIJ8SFG G-Star Women's Trason Long Sleeve Jacket 1 £230.00

B006Z7ZGRO Kookai Women's Dyed Cotton Shorts Candy UK 14 1 £29.00

B006Z8AQW8 Kookai Women's Short Belted Trench Coat Chamois UK 12 1 £109.00

B009RLM9AM Lipsy JD01894 Sleeveless Women's Dress Black Size 6 1 £36.00

B004URNES4 NYDJ 10265T877 Skinny Womens Jeans Blue/Black Size 22 1 £69.99

B008CM09WM Replay Rearmy Skinny Women's Jeans Denim W32 INxL32 IN 1 £69.00

B008CLZYVO Replay RockxanneSlim Women's Jeans Denim W33 INxL34 IN 1 £79.00

B00BPRIJ6E Selected Femme Lucca Low Waist Twill Skinny Women's Trousers 1 £39.00

B0066I9UUQ Wrangler Hailey Slim Women's Jeans Lifelong Blues W26 INxL34 IN 1 £59.00

B0064YVTVU Wrangler Jen Cropped Women's Cargo Trousers Sand W28 INxL32 IN 1 £69.00

B00GWE6BWY Motel Women's Queenie Plain Panel Swimsuit 1 £29.00

B008EXD18I Wrangler Stokes Skinny Women's Jeans Bare Blue W31 INxL34 IN 1 £69.00

B0083R2FU0 Yumi Original Women's Jessica Sleeveless Babydoll Dress, Black, Size 14 1 £55.00

B005FXD62G Morgan Women's Dress with Crossover Back Pink Small 1 £29.00

B007CHIK9W Mimi Holliday Fizz Gig Padded Plunge Women's Bra Yellow/Lilac 30 A 1 £25.00

B00CWCCZXO Hot Milk Women's First Light Full Cup Nursing Bra 1 £29.00

B008R7JZ68 Siwy Hannah 1 Skinny Women's Jeans Tainted Love W31 INxL29 IN 1 £150.00

3603525703134 Kookai Black top. Flower trim Size:38 1 £20.00

5052890986914 Henri lloyd hermione skirt 1 £60.00

3603525802271 Kookai mint v-neck top 1 £20.00

821580066220 Maggie Lane Golfsmith Sweater White Size 14 1 £12.99

8718353583423 G star raw women's stripe round neck tee Medium 1 £20.00

Numph Women's Honey Shirt, Red Ochre, Medium (B008RSEV6G) 1 £49.99

B006Z82XEM Kookai Women's Floral Bodice Dress Bubble Pink 16 (B006Z82XEM 1 £89.00

Motel Women's Blackbird Body Con Striped Short Sleeve Dress XS 1 £45.00

3603525775896 Kookai black bandeau Dress 38 1 £25.00

Saha Swimwear Bikini XL 1 £49.99

3603525662592 Kookai Stripe Dress 1 £39.00

B007XCH36C Morgan Women's Proba Trousers Bordeaux UK 14,EU 42,X-Large 1 £39.99

B009RYIXO0 edc by ESPRIT 122CC1B023 Skinny Women's Trousers Black W30INxL32IN 1 £45.00

B006Z7Z7W8 Kookai Women's Two-Coloured Flowing Trousers Shell UK 12 Beige 1 £89.00

B0081NYLSU James Lakeland 8917 Jersey Women's Dress Grey/Black 16 1 £165.00

B00CV3NHLI Rip Curl Lennie Logo Women's T-Shirt Grey 1 £12.99

B00BN7CBG0 Triumph Amourette Spotlight Full Cup Women's Bra Black 1 £29.00

B004URNIHQ NYDJ 52311-222 Ankle Length Womens Jeans Mushroom Size 20 Dark Beige 1 £99.00

B008RTXPGC In Wear Sedona Women's Drop Crotch Trousers Black Size 8 1 £89.00

B0093501Z2 Kookai Floral Women's Trousers Noir Small 1 £79.00

B008RTW004 St Martins Zip-A44 Women's Coat Peacoat EU 36 1 £109.00

5060172311231 Hot Tuna Women's light blue Scribble top size: small 1 £5.99

3585212242129 Princesse Tam Tam Night Bird Push up Bra, Mythical Purple, Size: 36D 1 £13.99

5051928211103 Panache Superbra UK 16 Andorra Thong 1 £8.75

3603525803476 Kookai Orange top. Flower trim Size:42 1 £20.00

3603525987138 Kookai Pullover Size 38 1 £35.00

801682551954 Hudson Petite Nico Midrise Super Skinny Size: 31 1 £90.00

B0084KADWS Kookai Grey Jeans size 38 1 £45.00

B00IINKTLG South Beach Women's Chelsy Bandeau Plain Bikini Top UK12 1 £8.99

B00GYS0SMM NYDJ Women's Sheri Skinny Jeans White Size 8 1 £149.99

B0031U1NQQ O'Neill Womens Audrina Tanktop Bitter Sweet Brown X-Small 1 £29.99

B00775WJTG Jackpot Brienna Women's Shirt Eggshell 12 1 £19.99

B006Z83BJ8 Kookai Women'S Evening Maxi Dressgreen 1 £129.00

B006Z87IFG Kookai Women's Floral Embroidered Corset Grey UK 8 1 £55.00

B006Z84CK0 Kookai Women's Sparkling Linen T-Shirt Old Rose L 1 £27.30

3603525675394 Kookai Women's linen vest top stripe 1 £14.99

B00GY4C4U0 Motel Women's Tilly Body Con Long Sleeve Dress 1 £45.00

3603525981549 Kookai Women's Skirt 1 £24.50

B006Z88HWY Kookai Women's Antique Motif Jumper Shell L 1 £26.60

B007FP3UOQ Morgan E12-ROMANS.P white DRESS X-Large 1 £25.00

B0065V4DLA Morgan E12-RICADY.N Multicolored DRESS Large 1 £25.00

b005i70jzg Hurley Ole Removable Soft Cup Tri Bra Women's Bikini Blue Medium 1 £12.99

8052434311629 Miss Sixty Women's Floral One shoulder Dress 1 £19.99

B00FBDH7C0 Vero Moda White Russian Push- Up Women's Bikini 1 £9.99

3603525662592 Kookai Women's Colour Block Mini Dress 1 £29.99

B007PTYP64 Quay Eyewear Australia 1543 Round Frame Sunglasses 1 £6.99

3603525688127 Kookai Animal Print Mid length Sleev top 1 £14.99

B00IJ403X8 Pour Moi? Women's Azure Padded Underwired Plain Bikini Top Black 36DD 1 £24.00

4049292327231 Puma Angel Blue Polo Shirt Size 8 1 £14.99

3603525987855 Kookai Women's Black/Pewter Jumper 1 £25.99

3603525870478 Kookai Monochrome Women's dress 1 £29.99

4050258790198 Olsen Fashion Light Shades 210 Jeans Size 40 1 £45.00
71 £3,575.93