One Off Joblot of 4 Mou Ladies Calf Boots - 4 Styles Mixed Sizes
Part No: SKU33024WC
EAN: 5053966286723
Condition: New
Brand: Mou
£60.00
(Inc. VAT: £72.00 GBP)
Per item: £15.00
Items in Joblot: 4
93% offrrp
Markup1,433%
Potential Profit£860.00
One Off Joblot of 4 Mou Ladies Calf Boots - 4 Styles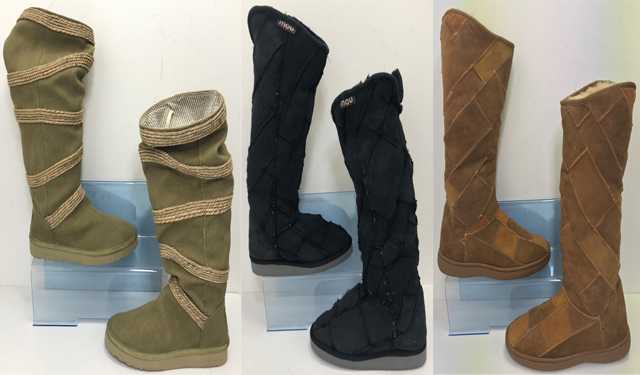 You will receive 4 Mou Ladies Calf Boots.
Sizes: 3 (x2), 4, 9
RRP: £210 - £240
Cult London label 'Mou' offers original, hand-crafted footwear in premium natural fibres. Warm, durable and sensually soft, mou shoes are loved by fans for the offbeat back-to-nature feel and eclectic styling.
At mou, ethical and eco-friendly production is a priority. Design innovation combines with traditional hand-craft manufacturing techniques, to maximise the natural beauty of leathers in the collection. Styles are created with comfort in mind and feature long-lasting soles and finishings.
This joblot includes 4 styles. Each comes in a calf boot design. Seagrass circled boots in green and black & brown faux-fur lined boots are included.
Each style you will receive is pictured below.
All boots are brand new; Each will come with a flatpack box that will need to be glued together.
Each pair comes with a certificate of authenticity.
Please note - some pairs have markings. The majority are in perfect condition.
The brown and the black pair do not have a Mou label