One Off Joblot of 38 NickJr Did it! Activity & Reward Chart with Stickers/Badges
Part No: SKU41491WC
Condition: New in Packaging
Brand: NickJr
£75.92
(Inc. VAT: £91.10 GBP)
Per item: £2.00
Items in Joblot: 38
80% offrrp
Markup400%
Potential Profit£303.70
One Off Joblot of 38 NickJr Did it! Activity & Reward Chart with Stickers/Badges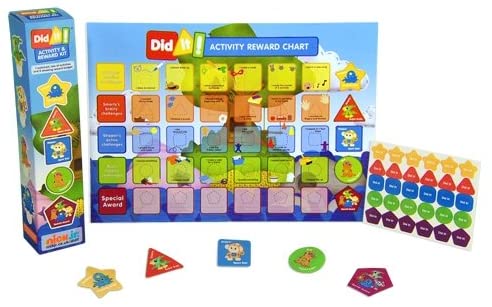 You will receive 38 NickJr Did it! Activity & Reward Chart with Stickers/Badges.
RRP: £9.99
Did it! is an activity and reward system created for parents and children aged 3 - 6. Complete with an interactive wall chart packed with fun-filled activities, special reward stickers, and iron-on badges, the Did it! activity & reward kit not only helps kids learn and develop new skills, it gives parents a way of rewarding them too. Completing each activity earns a Did it! sticker. Collect all 6 of Skipper's, Smarty's, Scribbles' or Bud's activity stickers and be rewarded with a special iron-on badge. All activities are simple, fun and help to develop lots of new skills. From creative tasks like making cards to brainy challenges like finishing a puzzle.
Each pack includes; activity wallchart, 30 stickers, 24 activities, and 5 iron-on badges.
Brand new and boxed.