One Off Joblot of 14 Mixed Shoes - Majority Ladies - Summer Shoes, Boots & More
Part No: SKU31076WC
EAN: 5053966266800
Condition: New
£42.57
(Inc. VAT: £51.08)
Per item: £3.04
Items in Joblot: 14
80% offrrp
Markup400%
Potential Profit£170.29
Please Note: Wholesale Clearance UK Ltd do not own this stock, we are acting as the broker. Please click here for full details
Please Note: free delivery is not applicable on this product. Delivery times are estimated at 3 to 10 working days.
One Off Joblot of 14 Mixed Shoes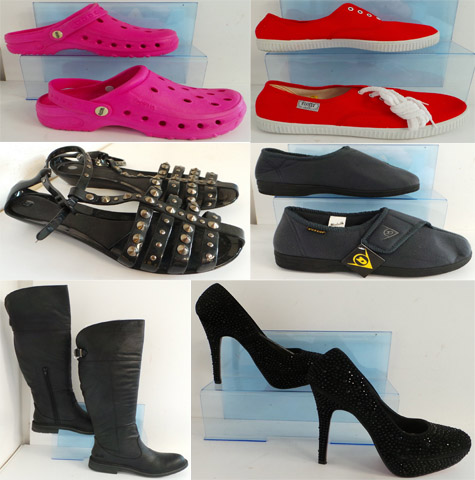 You will receive 14 Mixed Shoes.
3 x Dunlop Slippers
3 x Summer Shoes With Studs
1 x Blowfish Knee Boots
1 x Fashion Only Stud High Heels
1 x Multi Flip-Flops
1 x Quiva Clogs
1 x Flossy Red Pumps
1 x Black Pumps
1 x White/Black Flip Flops
1 x Chix Flats
Sizes: 4 (x2), 5 (x6), 6 (x1), 7 (x1), 8 (x2), 8/9 (x1), 9 (x1)
RRP: £4.99 - £69.99
Adults shoes in a good variety of styles. The majority are womens. Slippers, summer shoes, knee boots, high heels, pumps, flats and flip-flops are included. Branded names include Dunlop, Blowfish and Fashion Only.
All items are brand new. Some come boxed/in clear packaging.