Joblot of 872 Mixed Educational Stock - Notepads, Pens, Pencils, Labels & More
Part No: SKU41921WC
Condition: New
£219.18
(Inc. VAT: £263.02 GBP)
Per item: £0.25
Items in Joblot: 872
80% offrrp
Markup400%
Potential Profit£876.74
Joblot of 872 Mixed Educational Stock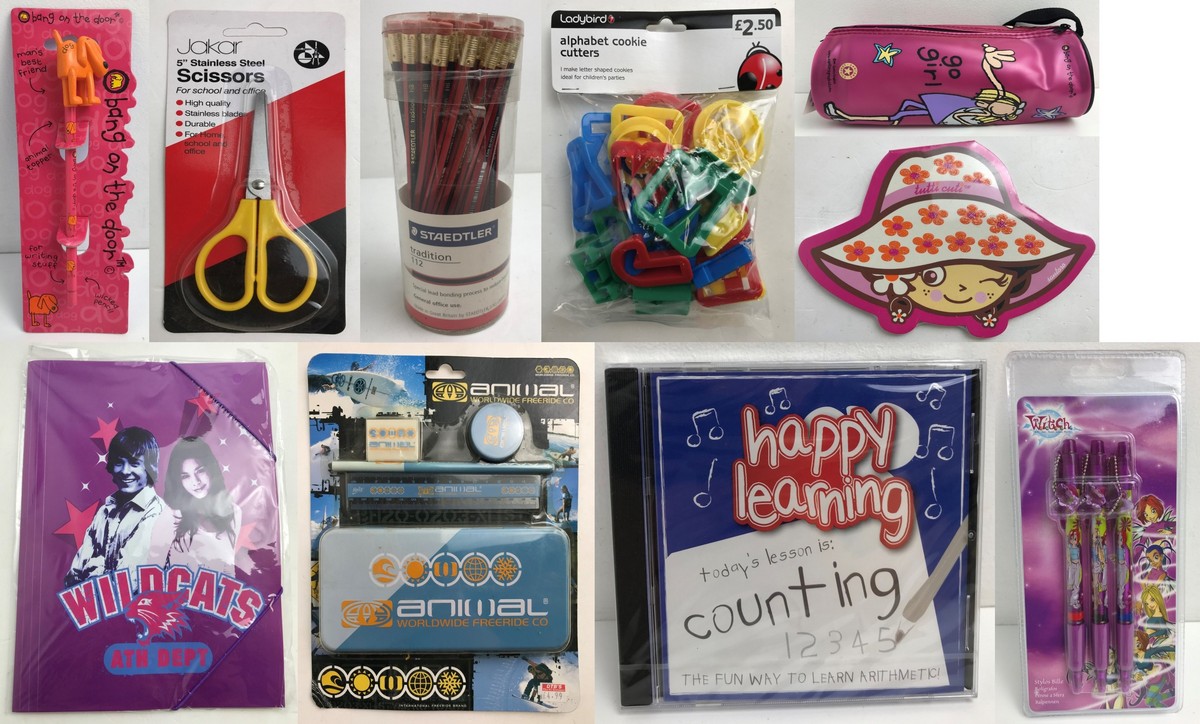 You will receive 872 Mixed Educational Stock.
RRP: £0.29 - £15
A mixed joblot of educational stock. Items include; dividers, sticky labels, notepads, pens, pencils, folders, cookie-cutter sets, scissors, rulers, cartridges, learnings CDS, and more.
All items are new however some are scratched/soiled due to prolonged storage. The majority of items are however in good, new condition.
A full stock list of items you will receive;
144 x Pencils
124 x Mixed Stationery Items (inc rulers, sharpeners, pens, scissors, protractors)
120 x Disney High School Musical Dividers
50 x Jeli Deli Sticky Labels (12pcs)
48 x Tutti Cuti Ice Cream Notepads
48 x Tutti Cuti Notepads
36 x Jeli Deli Scented Pens (6pcs)
36 x Happy Learning Counting CD
30 x Sum Copy Book
24 x Bang on The Door Penguin Pencils
24 x Bang on The Door Dog Pecils
24 x Practice Writing Pad
22 x Disney W.I.T.C.H Pens (3pcs)
20 x Disney High School Musical Folder
18 x Symmetry Reflector
18 x Jakar Scissors
12 x Alphabet Cookie Cutter Sets
10 x Helix Folding Ruler
10 x Cambridge Notebooks
8 x Reynolds Cartridges Black (18pcs)
6 x Bang on The Door Go Girl Pencil Case
6 x Bang on The Door Pencils (72pcs)
5 x Chalk Chess
5 x Centicubes Set
5 x Tutti Cuti Mechanical Pencil Set
4 x Animal Stationery Set
2 x Children's Merit Board
2 x Staedtler Pencils (36pcs)
2 x Fun Time Alphabet Pot
2 x Helix Glitzeys Set
2 x Pencils (12pcs)
1 x Sheaffer Pen (24pcs)
1 x PaperMate Pens (20pcs)
1 x Snoopy Pen (24pcs)
1 x Number Signs Jar (150pcs)
1 x Clever Rat and Other African Tales Book
1 x Maped Pencil Sharpeners (30pcs)
1 x Bic 40 Sticky Notes + Pen