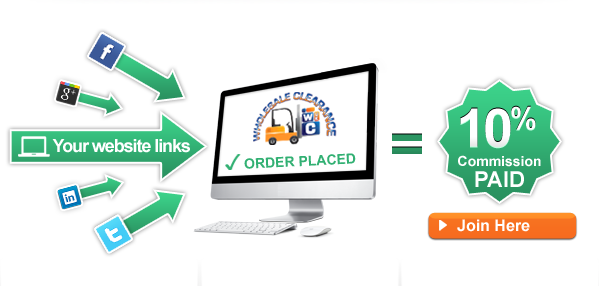 Affiliate referrals from your website
Average purchase amount is £650
Receive 10% commission on orders
One of the highest paying affiliate programs on the net.
Join our program and earn 10% commissions on sales.
Detailed real-time statistics generator 24/7
Banner code generator
Free signup
Join today!
The sign up process will only take 5 minutes from entering your details and information to adding the code to your own website.
What will i get out of it?
Become part of our own success by promoting and referring customer to our website. Our site if stocked full of brilliant products at low prices with high markups available.
Earn 10% (gross revenue excl. VAT) on each completed sale from your website, newsletter or Facebook account. Anyone you recommend that comes from your marketing and purchases the programme will earn you that 10%.
Our affiliate program is completely FREE to join.
We use the best affiliate tool on the internet to track and monitor every customer brought in from the affiliate network. This includes detailed, real-time statistics that you can view 24-7.
We supply you with all the marketing material you need to promote Wholesale Clearance on your website, newsletters and Facebook page. This include banners, flash banners and sales information.
Where can i link from?
The more links into our website then the bigger the payouts! You can place our affiliate linking code on your main website, email newsletter and most forms of social media. From Facebook, Twitter, LinkedIn and Google+.